This article is more than 1 year old
Iomega eGo Desktop USB 3.0 external HDD
Faster, master
With low vibration levels comes a low noise level too. I would be more than happy to keep the eGo on my desk for extended work periods and would likely leave it running overnight without any real disturbance.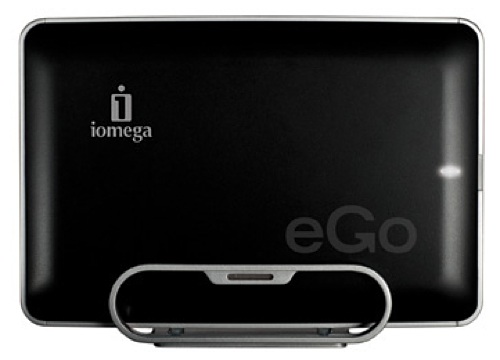 Hard to knock over
Other manufacturers bundle USB 3.0 PCI Express add-in adaptor cards with their SuperSpeed drives, but Iomega doesn't. It does, however, sell a separate PCIe card, model number 34948, that's based on the same NEC D720200F1 controller used in all other adaptors. This is the card I used to test the eGo.
Unlike other USB 3.0 drives, the eGo uses an extended Type B USB 3.0 port rather than the mini USB 3.0 port used by the WD MyBook 3.0 and LaCie's Rugged 3.0. So much for standardisation...
Open up the 2TB eGo and you'll find one of Seagate's 5900rpm, 3Gb/s Sata drives, specifically the Barracuda ST320005N4A1AS-RK. It has a 32MB cache and, once formatted, will yield 1.81TB of true storage.