NASA and Microsoft have teamed up to present huge amounts of 3-D Mars mapping data, gleaned by space probes in orbit about the red planet, in a form usable by anyone with a net connection.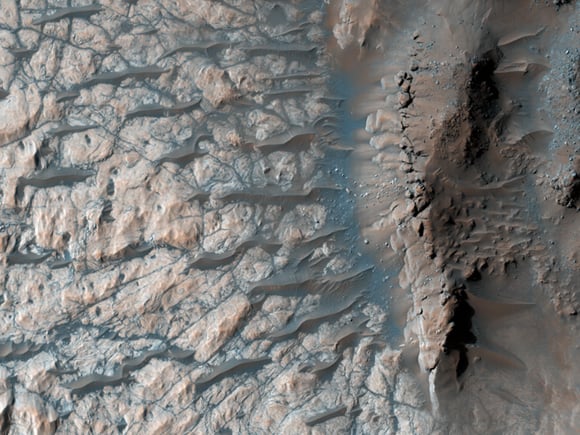 What's not to like?
"These incredibly detailed maps will enable the public to better experience and explore Mars," says NASA's Michael Broxton, a boffin in the Intelligent Robotics Group at the space agency's Ames centre in Silicon Valley.
"The collaborative relationship between NASA and Microsoft Research was instrumental for creating the software that brings these new Mars images into people's hands, classrooms and living rooms."
The map data contains 74,000 images from the Mars Global Surveyor's Orbiter Camera and 13,000+ high-res pics snapped by the Mars Reconnaissance Orbiter's gigapixel High Resolution Imaging Science Experiment (HiRISE) camera. The complete maps were crunched into mosaics containing more than half a billion smaller images.
The NASA Mars-probe pics are presented to the public using Redmond's WorldWide Telescope platform, which was jointly developed at Ames and at Microsoft Research.
"We are enabling a whole new audience to experience the thrill of space," says NASA's new CTO for IT, Chris C Kemp.
The new 3D Mars maps also include video walkthroughs by NASA boffins Carol Stoker and James Garvin.
Full details and download of Microsoft's WorldWide Telescope are available here: alternatively straight HiRISE imagery can be accessed here. NASA's Mars Reconnaissance Orbiter page is here. ®
Similar topics