Surely a 13.3in display is going to be kids' stuff, I imagined. But sitting in front of the MacBook, I found that its 1280 x 800 screen space is good enough for most things other than full 1080p HD playback, and the quality of the image is excellent. I have used notebooks with brighter screens than this, but few that were so well-defined without having to blast it to extreme contrast hell.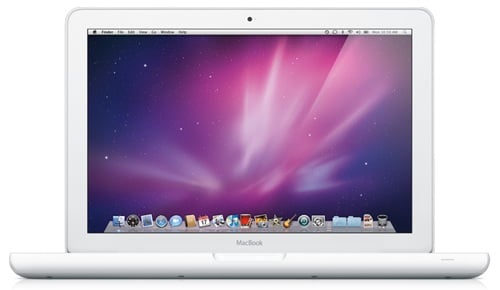 The screen is a delight
A webcam is built into the bezel above the display, with a microphone built into the main body of the case.
The keyboard is exactly the same size as Apple's desktop keyboard – at least, the one without a numeric keypad. I love Apple's light-touch, flat keyboards, so naturally I like the one on the MacBook too. However, if you prefer to hammer away viciously at your keys with the single-minded intent of a long-term self-harmer trying to accelerate the onset of RSI and arthritis, you'll probably not enjoy this keyboard very much.
In front of the full-size keyboard is Apple's new enormous, glass-surfaced trackpad. This is a multi-gesture input device that recognises the difference between one, two, three and four-finger touches and swipes, but what makes it work so well is the instant response to them all in the Mac operating system. There's absolutely no delay or jitter while the OS interprets your gestures.