Because of the way the display hinges back over the rear, all connector ports are located on the left-hand edge of the computer, while the slot-loading DVD writer faces right.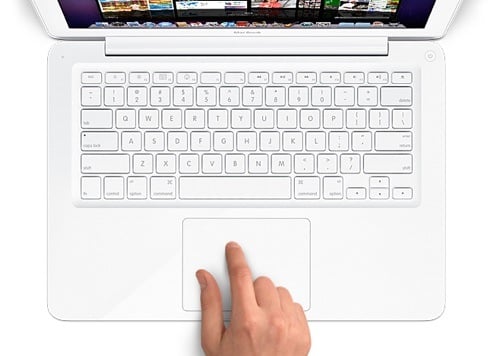 The multi-touch trackpad is incredibly responsive
At first, I'm wondering how Apple managed to design their entry-level notebook to be so slim.
Then I'm wondering if a little bit more effort might have been worthwhile to try to cram in a few more USB ports. There are only two, neither of which are USB 3.0. Hmm, that's not so good for my snappy new home entertainment gear. Oh, there's no HDMI port either. And... hang on, the earphone socket doubles up as the audio-in socket, so I have to rig up a headphone workaround when playing from my music mixing software to an external amp.
What kind of consumer does Apple think I am? Consumers don't need fewer ports than computing pros, they need more of them. Lots more!
That said, Apple has provided a Gigabit Ethernet port and one of its tiny-but-invariably-needs-a-20-quid-adaptor Mini DisplayPort ports. Wireless connectivity is fine too, with Bluetooth 2.1+EDR and 802.11n Wi-Fi included as standard.

Not enough ports, Steve
Apple's other non-pro compromises in the MacBook are spot-on. For example, the Core 2 Duo processor is nothing special any longer, but plenty powerful enough for home stuff, especially since the GPU is good. The shared memory for graphics is inevitable but acceptable. The 2GB of memory - 4GB max - seems fair enough. If you want more on all these counts, buy yourself a MacBook Pro instead.
Similar topics