I also appreciate Apple's willingness to allow the great unwashed to open the case for component upgrades. Flip over the closed clamshell and you can open the base with a crosshead screwdriver, revealing the optical drive, Ram slots, battery and hard drive.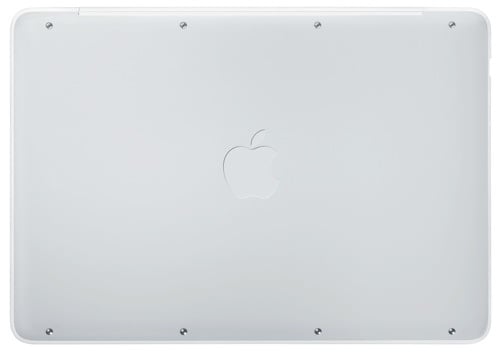 The non-slip base is easily unscrewed to access the laptop's innards
Incidentally, Apple says the battery will last ten hours on a full charge in normal use. Reg Hardware's own intense battery test, based on abnormal use - playing a 45-minute QuickTime movie on indefinite loop at full screen, full brightness and 50 per cent audio volume, Wi-Fi on and connected - saw the MacBook battery last five and a half hours away from the mains.
Power management in the MacBook is good. In normal use, it consumes an average of 23W, rising to 30W while charging the battery at the same time. In sleep mode, it consumes a mere trickle: just 0.6W, rising to 7W if it needs to charge the battery while snoozing.
Verdict
You can sniff at the benchmark results, frown at the 250GB hard drive and rub your chin at the 2GB Ram, but none of this tells you what it's really like to play with an Apple MacBook. It is a terrific notebook computer that is great to use for pleasure and everyday work, and looks lovely being slid in and out of a student's shoulder bag.
It's expensive, but I don't care: if you want cheap, go buy a tombstone. What I do care about, however, is the limited range of I/O ports. Please, sir, I want some more. ®
Thanks to the Square Group for the review unit.
More Apple Reviews

Mac Mini
iPad 3G
MacBook
Pro 15in
iPhone 4

Apple MacBook mid-2010
This non-pro notebook is cute but coy and comes with almost everything a consumer will need.
Similar topics