The SNIA (Storage Networking Industry Association) has had a working party devise a draft Solid State Storage Test Specification to enable customers to compare the performance of different solid state storage (SSS) products.
Although referring to SSS products using any solid state technology, such as DRAM and NAND, its main utility will surely come with SSDs (flash solid state drives). It is focussed on the point that flash performance drops off after a device is first installed fresh out of the box, as shown in the chart below.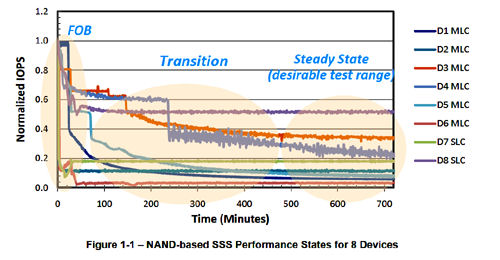 The SNIA says its Performance Test Specification (PTS) ensures testing is done in the steady state period following on from the cessation of the initial and misleading raised performance phase.
Some manufacturers have shown this raised performance level as being typical of a solid state drive when it's not. The PTS puts flash devices into "a consistent state prior to preconditioning and testing, and [facilitates] a clear demonstration of Steady State convergence behaviour."
The PTS has had a wide set of contributors from across the flash industry and this, hopefully, means that the draft will be approved quickly and then used by suppliers. However, there will always be the tendency for suppliers to overstate their product's performance by avoiding the PTS and publicising the initial, elevated performance level. ®