Blighty's stealth robojet rolls out a year late
But it preserved Brits' jobs at BAE! Well, some of them
---
The UK's "Taranis" robot stealth jet has finally rolled out of assembly, the year after it was supposed to be in ground testing.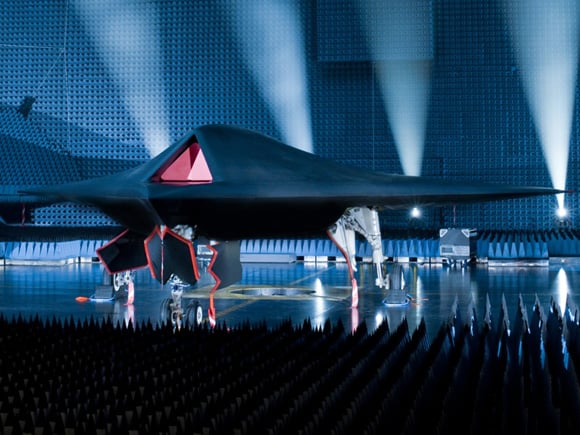 Doesn't even save British jobs, let alone lives
Taranis, a jet-fighter-sized unmanned aircraft of the same general sort as the USA's X-45, X-47 and Phantom Ray roboplanes, has been under construction by BAE Systems and allied firms since 2006. It was supposed to enter ground testing last year and fly this year, but problems were encountered and the project is running late. Flight trials are now expected next year, and initial expected cost to the taxpayer of £125m has now reportedly risen to £143m.
Robo-bombers developed from today's prototype might conceivably replace the RAF's Tornado bombers, scheduled to retire in 2025. But 2025 is a long way off, and in the meantime the RAF is a lot more interested in jazzing up its new Eurofighters to be more capable of ground attack duties. The Taranis project wasn't kicked off in 2006 because the RAF wanted it. Rather, Taranis was begun to give BAE Systems' fighter design team something to do. With the Eurofighter largely finished and no new RAF business on the horizon for decades, the future of the design shops at BAE's fighter factories was looking highly uncertain.
"This technology is key to sustaining a strong industrial base," said BAE exec Nigel Whitehead, speaking at Monday's rollout ceremony.
The Defence Industrial Strategy (DIS) of 2005, under which the Taranis project was begun a year later, says:
Our plans ... to invest in developing [Unmanned Combat Air Vehicle] technology – will also provide us with the core industrial skills required to contribute to any future international manned fast jet programme, should the requirement for one emerge. This recognises both the uncertainty of our very long term requirements ... and that we should avoid continuing to fund industrial capabilities for which we have no identified requirement.
It has long been recognised, however - even by BAE Systems - that the Ministry of Defence (MoD) doesn't have the money to afford the higher prices that the DIS calls for. Furthermore, Blighty's fighter factories haven't built a new plane on their own since the 1960s: all the UK forces' current aircraft are full of imported technology and have been for decades.
The new government is currently carrying out a full defence review in which all previous assumptions may be overturned - and in which severe cuts are expected. It would seem at least possible that Taranis and its builders may be reclassified soon as "an industrial capability for which we have no identified requirement".
Certainly local MP Mark Menzies - many of whose constituents work at BAE's Warton and Samlesbury sites - is worried.
"We are not just talking about Tranche 3B of the Typhoon but also the possible effect on the unmanned Taranis project, which could yet be subject to some of the cuts," he told the Blackpool Gazette last week.
"I will continue to fight for the protection of jobs," added the MP.
Giving BAE the Taranis project seems to have done little to preserve jobs, however. BAE's total global workforce was 106,400 strong as of publication of its most recent corporate responsibility report, up from 97,500 the year before, but barely a quarter are Brits. The company's British workforce continues to shrink as it has done now consistently for many years, with seven per cent having been sacked just in 2009. BAE Systems has shed more than 13,000 UK employees since 2001. ®