This article is more than 1 year old
Kingston SSDNow V+ 512GB solid-state drive
Serious capacity... serious price
Here's where Kingston steps in with the 9.5mm deep, 2.5in SSDNow V+ series, offering low capacity drives at prices in line with other manufacturers and high capacity drives at, well, more than you might pay for a high-end laptop. Still, you have to start somewhere, and 512GB drives are not yet commonplace.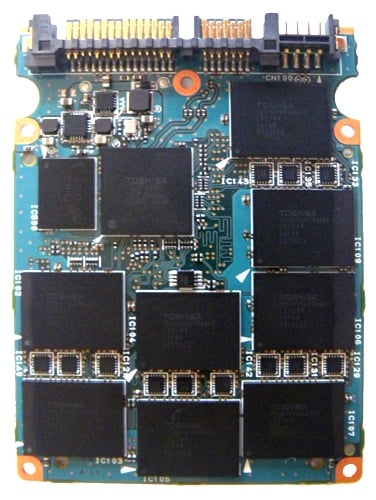 And there's a Toshiba controller too
Now, I'm new to using SSDs, and it was disconcerting to say the least that the familiar whir of spinning platters wasn't present to indicate that the drive was actually working. Having reassured myself about the eerie silence, and using comparison data from Reg Hardware's previous SSD reviews, the benchmarks began.
Before testing the SSDNow V+, I knew there would be a performance increase over my old Maxtor 6V300F0 HDD, but was unsure what kind of practical benefits would be observed. So I timed some common tasks which I found to be rather slow using a conventional hard disk.