This article is more than 1 year old
Kingston SSDNow V+ 512GB solid-state drive
Serious capacity... serious price
CrystalDiskMark 3.0 Results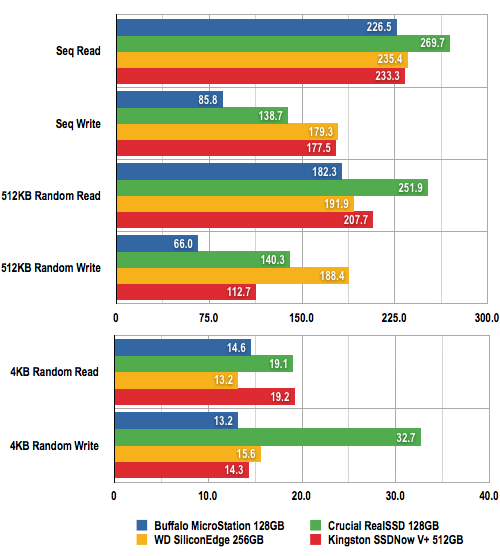 Data Transfer Speeds in Megabytes per Second (MB/s)
Longer bars are better
These results were encouraging as it was clear to see that the Kingston drive was capable of keeping up with Western Digital's new SiliconEdge Blue and beating the Buffalo's MicroStation SSD - a drive, like the Kingston, designed for notebook upgrades.
But it fell behind Crucial's RealSSD C300 - reviewed here - a drive capable of a 6Gb/s Sata link, though here tested at 3Gb/s like the others. More to the point, perhaps, the Crucial drive is cheaper. Kingston wants £665 for the 256GB SSDNow V+. The C300 of the same capacity - Crucial's current maximum - is £552. It's very hard to argue against a £100-odd saving, especially when you get a performance boost into the bargain.
Verdict
I'd love to say that everyone should go out and buy the 512GB model, but I know that most will cringe at the £1270 price tag. Yet the difference one of these drives makes is phenomenal. By all means, if you have the cash and need the capacity, then this 512GB boy the drive for you – for everyone else, I would highly recommend an investment in one of the lower capacity drives - 64 or 128GB - for use as a boot drive in your desktop, or a single 256GB unit in a laptop. ®
More SSD Reviews

Buffalo
MicroStation
WD
SiliconEdge
Blue
Crucial
RealSSD
C300
Intel
X25-M

Kingston SSDNow V+ 512GB solid-state drive
A solid-state disk for Joe Average that finally breaks the 512GB barrier.
Price:
£303 (128GB) £665 (256GB) £1270 (512GB) RRP