This article is more than 1 year old
Seagate announces ugly diskless NAS filer
Nice price though
Seagate has announced an empty four-bay small business filer that you fill up with drives yourself. Seagate ones, naturally.
It's the BlackArmor NAS 400 and is the same box as the NAS 420 and 440 products, which come with two and four drives installed respectively. You can stick 1 and 2TB Barracuda drives in it, but not the 3TB drive used inside the FreeAgent GoFlex - that's simply not available.
In all other respects the NAS 400 is exactly like the NAS 420 and 440 with its four USB and two Gigabit Ethernet ports, DLNA support, RAID 1, 5 and 10 protection, FTP serving etc.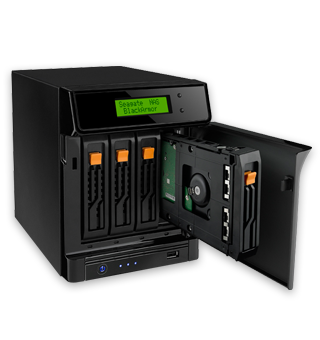 It looks like them too, having all the style and attractiveness of a desktop shredder - a long way from the colour and elegance of the FreeAgent drives. Lovers of stylish desktop machinery might well cry for Drobo.
There is a heck of a lot of competition in the desktop NAS product space. There's Drobo of course, and Netgear with its ReadyNAS Ultra line-up of two, four, and six-bay products. These were announced earlier this week under a rubric of "the death of local media storage," and include a lot of media-related functionality.
The idea is to store media content on them and share it around networked systems in the home - this not being a small biz box. A diskless four-bay box costs £247.28 ($308.00) on Amazon. A driveless five-bay Drobo file-sharing box costs a lot more: £543.81 ($695.00) on Amazon.
The BlackArmor NAS 400 costs around £270 ($400) and is available now from Seagate's website. Seagate's pricing looks good. ®