Sony reveals lens-swap camcorder
Un-wrap party for 14Mp HD video cam
---
Sony has announced the interchangeable-lens camcorder it revealed earlier this year as a concept it had in development.
And still is in development, presumably, since the Handycam NEX-VG10E isn't going to go on sale until the end of September.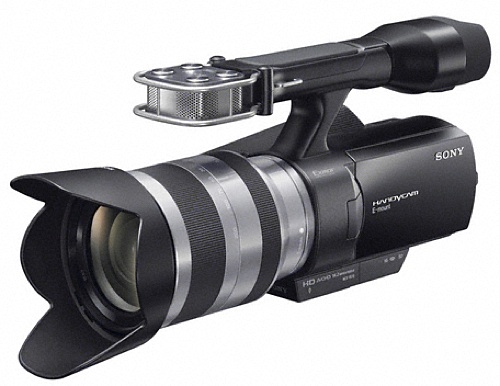 When it does, it will be a machine with a 14.6Mp CMOS sensor capable of recording 1080i footage at bitrates of up to 24Mb/s. It records onto SD, SDHC and SDXC memory cards - Memory Stick too - in AVCHD format.
It'll take 16:9, 12Mp stills - or 3:2, 14Mp shots - and can record stereo sound using an integrated "quad-capsule spatial array stereo microphone". Its battery is good for 5.5 hours' continuous filming.
As we say, the lens can be replaced, but the NEX-VG10E will come with a E18-200mm (F3.5-6.3) lens with optical image stabilisation and an 11x optical zoom. The Zoom has a ring control, as does the manual focus.
The whole lot weighs 1.3kg, so it's not really for the 'palm and pan' brigade. ®
Similar topics
Narrower topics