This article is more than 1 year old
All-in-One Inkjet Printers: Best Buys
The pick of the printers
Group Test Before I announce which printers have won Reg Hardware awards, let's first see how they measure up against each other.
Print-speed Tests
Multi-page Printing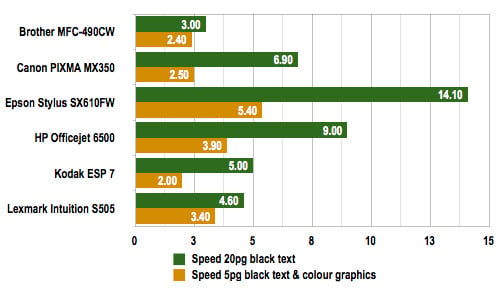 Output in pages per minute (PPM)
Longer bars are better
Photo Printing

Time to print 15 x 10cm photo in Seconds (s)
Shorter bars are better
Running Cost Results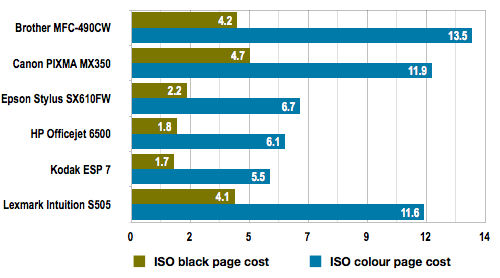 Price-per-page in Pence
Shorter bars are better
These results are based on official pricing for both printers and their consumables, and you should bear in mind that these machines are very likely to be discounted by retailers. In particular, the relative running costs may not reflect actual costs at typical discount prices.
Still, I can say there are two machines that stand out in this group. Epson's Stylus SX610FW is a solid, well-designed printer which is very fast - though noisy with it.
HP's Officejet 6500 Wireless is fast too, but also has very low running costs and useful extras like high paper capacity and duplex print. For general use in a home or home office, it's a very strong choice, and accordingly wins the Reg Hardware Editor's Choice award. It just sneaks in ahead of the Epson, which gets the Recommended award. ®
All-in-One Inkjet Printer Group Test