This article is more than 1 year old
Lexmark Intuition S505
Basic box
Review Lexmark's Home Office range of all-in-ones, like Kodak's, share the same print engine and are distinguished, one from another, by their feature sets and price. Although it has an SRP of £150, the S505 is closer to the bottom than the top of the range and you can find it heavily discounted.
The printer has a conventional design, with an near-upright feed tray at the back – which can take 100 sheets of plain or 20 sheets of photo paper – and a pull-out tray at the front.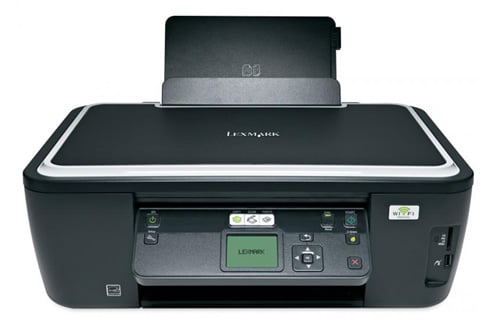 The control panel looks empty, mainly because it is. There's a 61mm colour LCD and a square of menu navigation buttons to its right. Behind it are illuminated mode buttons, though there are only three of them, because the printer has no fax. There's no ADF, either, so this machine's in the same mould as the Kodak ESP 7, and shares the same pair of memory card slots, which cater for SD, MemoryStick and xD in their various guises.
Wireless connection is straightforward, as long as you can first connect temporarily by USB, and drivers are provided for Windows and OS X, with Linux support available from a separate Lexmark site, through CUPS, the Common Unix Printing System.
Rated at 17ppm black and 11ppm colour, in reality and in normal mode you're likely to see what I did: 4.6ppm and 3.4ppm, respectively.
Print quality from the new Vizix ink system is much better than it was with earlier Lexmark printers, with relatively clean black text, bright colour graphics and photos nearly as smooth and natural as from Canon or HP. The dye-based Vizix inks don't have very good fade resistance though.
Cartridge prices give page costs of 4.1p for black and 11.6p for colour print, the higher end of the scale in this group.
Verdict
Lexmark has produced a competent all-in-one printer, but it doesn't do anything better than any of its rivals do. ®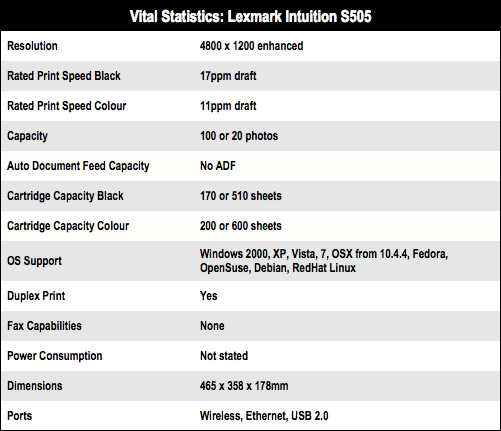 All-in-One Inkjet Printer Group Test

Lexmark Intuition S505
A competent but uninspiring printer.