This article is more than 1 year old
US Army trials Iron Man super-trooper exoskeleton
HULC™: the ruggedisation is complete
A powered exoskeleton suit designed to let soldiers march and fight carrying huge loads of weaponry, equipment and armour is to enter testing with the US Army.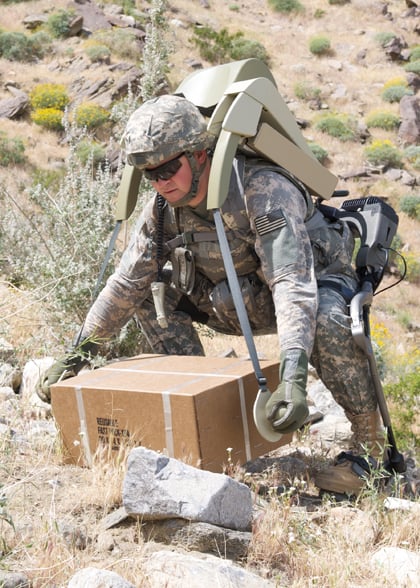 That box of pies plainly isn't going to last him long.
The machine in question is of course the Human Universal Load Carrier (HULC™), nowadays a product line belonging to arms behemoth Lockheed after it bought up HULC inventor Russdon Angold and his company Berkeley Bionics.
The HULC uses li-ion batteries to power its hydraulically-driven titanium legs. It matches its movements to those of the wearer without the need for any control inputs.
Heavy equipment can be carried on a HULC trooper's back or hung in front of him from various over-shoulder fittings, and the weight is carried by the exoskeleton rather than his body. A HULC wearer can easily carry 300lb of backpack and body armour, and still be able to walk, run, kneel and stand with ease. The basic machine offers no help to the wearer's arms, but there is a shoulder attachment with powered belts over the shoulder for lifting heavy objects (pictured).
The HULC's li-ion batteries will run flat after a few hours' use - less if any jogging or running is done - but Lockheed have hired military fuel-cell firm Protonex to develop a power pack which would last for days. This will also allow a soldier to plug in all his other battery-powered items such as radios, nightsights, lasers etc.
When the Reg interviewed Angold in his suit last year the HULC was described by Lockheed as being still "in ruggedisation" and not yet ready for trials with actual soldiers.
It would appear that ruggedisation is now complete, as a Lockheed statement issued yesterday says that the US Army's Natick Soldier Center will now perform "test and evaluation" of the HULC, paying $1.1m for the privilege. According to Lockheed:
The U.S. Army will test Lockheed Martin's advanced ruggedized HULC design. The upgraded HULC system includes optimized control software, extended battery life and human factors improvements for quicker and easier sizing to each user.

The contract includes options for field trials to test the system's utility in operational environments.
Lockheed says it is also "exploring exoskeleton designs to support industrial and medical applications".
Rival US defence mammoth Raytheon also has an exoskeleton project, the XOS. Angold sneers at this, however, as at last reports it still required a plug-in power cable. ®