This article is more than 1 year old
Hubble eyes sun-roasted exoplanet
Gas giant's atmosphere blown into comet-like tail
Observations from the Hubble Space Telescope's Cosmic Origins Spectrograph (COS) have determined that gas giant HD 209458b is having a really bad hair day, orbiting so close to its star that its atmosphere is being stripped away by cosmic winds and cast into space in a "comet-like tail".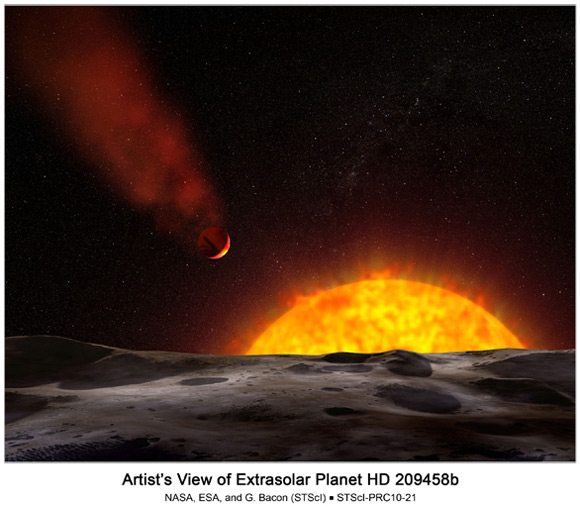 HD 209458b - lying some 153 light-years from earth - has attracted much attention from astronomers because it was one of the first exoplanets caught transiting its sun. It tips the scales at slightly less than Jupiter, but is "100 times closer" to its stellar captor, and nips around the star in just three-and-a-half days.
Jeffrey Linsky of the University of Colorado used COS to analyse just how HD 209458b's uncomfortably close proximity to its sun affected its atmosphere.
NASA explains: "COS detected the heavy elements carbon and silicon in the planet's super-hot, 2,000-degree-Fahrenheit atmosphere. This detection revealed the parent star is heating the entire atmosphere, dredging up the heavier elements and allowing them to escape the planet."
For those of you who like your superheated atmospheres in new money, that's a tad over 1000°C – enough to blast off gas from the planet at 22,000 mph (35,400 km/h).
COS revealed the comet tail effect of the escaping gas during transition – previously suggested but not confirmed in 2003 by Hubble's Space Telescope Imaging Spectrograph – thanks to its "unique combination of very high ultraviolet sensitivity and good spectral resolution".
It's not all bad news for "roasted" giant HD 209458b, though. Linsky noted: "It will take about a trillion years for the planet to evaporate."
NASA has more on the baked gas giant here, while the results of the Hubble observations appear in the 10 July issue of The Astrophysical Journal. ®