Space boffins believe they may be on the verge of discovering a vast, hidden network of tunnels beneath the surface of the Moon.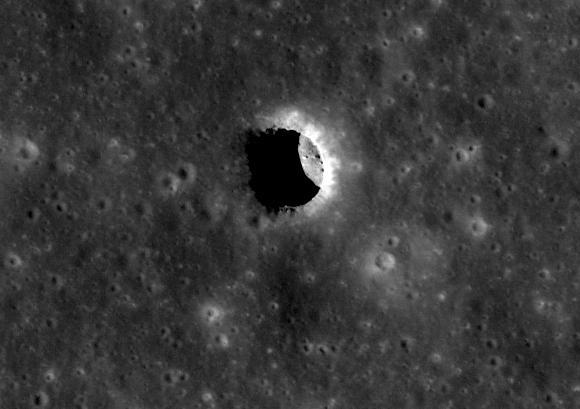 Collapsed pit-crater shaft leading down to a sub-selenean tunnel?
The tunnels aren't thought to be the work of long-extinct (or perhaps still surviving) intelligent moon aliens, perhaps driven to adopt a subterranean existence by a notional disappearing atmosphere aeons ago. Nor is any involvement by Tibetans, Elvis or others seeking a secluded dwelling far from prying human eyes suspected.
Instead, top moonologists think that they may be on the track of "lava tubes" not dissimilar to those of Earth. A lava tube, unsurprisingly, is a tube in solid surrounding rock along which at some point liquid lava has flowed (or is still flowing, in some Earthly cases).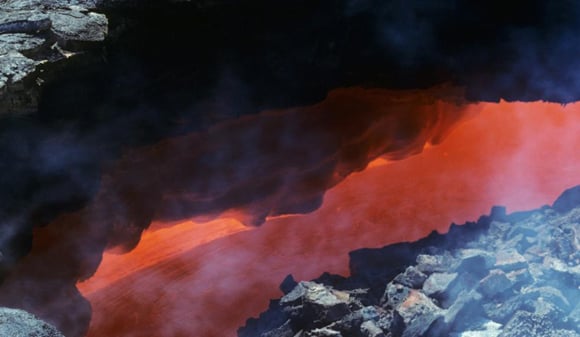 View down into an Earthly lava tube.
When the lava cools and solidifies, there is often an open space left above its surface, forming a tunnel.
In some cases, parts of the roof of such a tunnel will collapse, forming a so-called "pit crater". If the pit crater forms while the lava is still flowing, it will have a smooth bottom. If the collapse happens once the lava has hardened, the bottom of the pit crater will be home to a pile of rubble.
Scientists analysing results from our old friend the Lunar Reconnaissance Orbiter (LRO), placed into a very low Moon orbit by NASA so as to map our satellite in great detail, believe they may have found such pit craters - so pointing the way to subterraneanselenean lava-tube tunnels.
"To date, we have about ten candidate pits awaiting confirmation," report boffins at the LRO Camera team.
"Do these pits provide access to open lava tubes?" they ask.
That's a question which the LRO scientists will attempt to answer by snapping pics from the LRO at such angles - and with the Sun at such a position in the sky above - that they could spot overhangs indicating whether or not the possible lava-tube tunnels are still "open and accessible".
President Obama has lately stated that there will be no manned return to the Moon, as had formerly been planned (indeed without the Moon-return plans it is unlikely that NASA would have bothered to send up the LRO).
However there are less ambitious plans for robotic visits to Earth's satellite - some of them even, perhaps, featuring a tunnelling mole-cruiser subselenean probecraft.
Humanity may yet one day gaze upon the mysteries lying hidden in the Moon's unseen, cavernous tunnel complexes - if only by proxy. ®