'Eternal' sun-plane still aloft after 7 days, aiming for 14
Would be nice to see how it does at mid winter
---
A British-made solar powered aircraft has been airborne above a US military test range in Arizona for more than seven days continuously, it has been announced.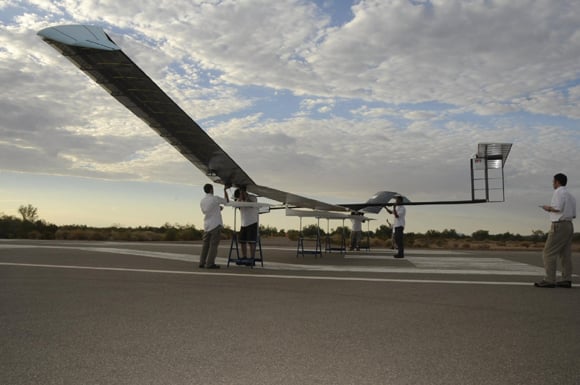 Make the most of it lads, your sons will be doing the next servicing.
The "Zephyr", made by controversial MoD boffinry selloff bonanza firm Qinetiq, is still in flight above the US Army Yuma Proving Ground as of publication, having taken off last Friday. At 168 hours as of just before 3pm UK time, this far outstrips the official world record for longest duration unmanned flight (30 hours 24 minutes, set by the RQ-4A Global Hawk in 2001).
In order to make the Zephyr's new record official, a representative of the Federation Aeronautique Internationale (FAI) is present at Yuma. The books will be amended once the aircraft is safely down: however Qinetiq intends to keep it airborne for another week if possible before that.
The Zephyr uses electricity from its solar cells to recharge its batteries during the daytime and runs off the stored power at night. It is intended to carry out surveillance and communications-relay tasks above the battlefield, where it would offer a long-endurance alternative to normal aircraft or satellites.
According to Qinetiq, the goal of the current flight is to show that Zephyr is the world's first "truly eternal plane", capable of staying up for months.
"The team has worked tirelessly over the past few years, making truly significant leaps forward in overall design and construction - and to see it successfully soar into the sky was fantastic," gushes Jon Saltmarsh, Zephyr chief at Qinetiq. "By being able to remain over a location for weeks or months at a time, it can usefully deliver a host of practical and more affordable solutions to both civil and military customers."
The new and upgraded Zephyr has been enlarged from previous versions and features a new power-management system and T-tail for reduced drag.
There's no doubt that the current flight is a significant achievement for Qinetiq. However, as with Zephyr's previous unofficially record-breaking flight one can't help noticing that the firm has chosen to make the attempt in uniquely favourable circumstances.
Yuma Proving Ground lies in the Sonoran Desert just 32 degrees north of the Equator, and the northern-hemisphere summer solstice is only just past. The sun is tracking as nearly dead overhead as it ever does over US territory just now, meaning that the Zephyr is getting far more energy from its cells than it would farther north or at other times of year.
One should note that in operational use the Zephyr will have to power a payload as well as itself - and for much of the year in many locations it will have to do this with less output from its cells than it is getting now.
If the sun-plane is generating a large surplus above what it needs to stay airborne, well and good: Qinetiq are offering no details at this point. If it isn't, though, its claim to be the first useful "eternal plane" will look rather unfounded. ®