Recording management is excellent. It's really easy to manually pad out the recording or change the name of the show. When watching a live TV show the banner info shows Now and Next descriptions, whether it's HD or not, what the audio format is and what if anything is being recorded at that time.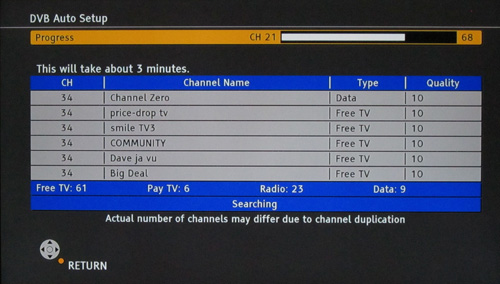 Setup Menu
All TV shows are recorded in DR (direct record) mode using the same bit-rate (8Mbps for HD) as the original, to the hard disk and the 500GB disk has a 130hr HD capacity. Freeview HD audio is output as PCM with no Dolby Digital available from the digital optical output.
To view or copy a recording to Blu-ray or DVD you press the Function Menu. There are several handy editing options such as chapter marking, splitting, changing the thumbnail and renaming. With a blank disc inserted and formatted it's fairly straightforward to select titles for copying.
You can only make one HD copy of ITV and C4 shows but there's no limitation with BBC material. A handy icon flags up those shows with limited copying. One flaw is that if choosing from within a series-link folder, any other selected titles have to be re-selected – very odd.
Panasonic's fledgling VieraCast service just dips a toe in the lukewarm Internet video waters. You can't access it when the hard disk is recording, which is no great loss. Curiously, whilst the DMR-BW880 is DLNA compliant it can't access media files on a PC, but it can act as a remote read-only drive for a PC and you can store up to 40,000 MP3 albums. Navigation is comprehensively iPod-style with artist, album, favourites, playlists and frequently-played folders. You can also copy AVCHD, JPEGs and DiVx (including HD) files to the HDD.