The HD Freeview tuner is excellent, with as much clarity and detail as I've seen on any broadcast platform, whilst standard def pics are also top-rate. Image quality however does drop-off just a tiny smidgen with recordings.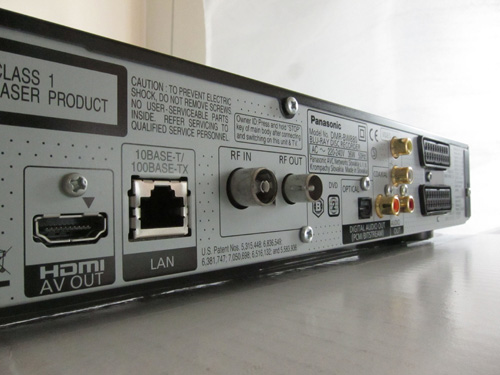 Comprehensive interfacing enables integration with any typical home setup
Viewing on a rather splendid Samsung UE46C8000 backlit LED TV, I noticed the skin on some of ITV's Loose Women wasn't looser but it was blotchier and the all-orange shirts of Holland's footballers lost a bit of detail where Sky HD managed to retain all of the original detail. Happily, no more detail was lost on the journey on to Blu-ray.
As a Blu-ray player, the DMR-BW880 performs perfectly well. It's not the fastest deck in town at loading discs but navigation is fine and image and sound quality are well up to snuff with Avatar serving up some fantastically detailed pictures. Multi-media playback is not as broad as some machines with only FAT16 and FAT32 formats acceptable on USB, but MP3 and DiVx played back faultlessly.
Verdict
The Panasonic DMR-BW880 makes watching, recording, editing and archiving HD extremely straightforward. It also an accomplished Blu-ray deck and has fairly decent networking capabilities too. Yet despite these capabilities it falls short with its jaded looking menus and an annoying Freeview EPG. After all, you really shouldn't have advertisements foisted upon you when you're paying this kind of price and hence the overall rating it receives here suffers because of that. ®
More Freeview HD Gear Reviews…

Sagemcom
RTI90-320
Freeview+ HD DVR
Group Test:
Freeview HD
Televisions
Humax
HD-Fox T2
Group Test:
Freeview HD
Receivers

Panasonic DMR-BW880 HD DVR
Dual Freeview+ HD tuners with both hard disk and Blu-ray recording – ideal for TV archivists.