HP files webOS tablet trademark
Steve Jobs ain't gonna like it
---
HP has filed an application with the US Patent and Trademark Office to protect what may very well be the name of its upcoming webOS-based tablet: Palmpad ... or PalmPad. Who knows, since the application simply reads all-caps PALMPAD.
A slick bit of marketing savvy, we believe, seeing as how Palm's name recognition remains strong worldwide. Despite the rocky road traversed by the Prē and Pixi, Palm's smartphones weren't derided as junk — they simply were overrun by the iPhone and Android-based phones.
All well and good, but the application's use of the term "Pad" is the genius stroke. Not only does it ride aboard the iPad hype machine, but it simultaneously commodifies the term.
Also, "Pad" doesn't conjure up the failed past of the stylus-based Tablet PC, as does "tablet", nor does it seem weighty and over-featured as does "slate", with its dark intimations of a full-fledged PC operating system such as Windows 7.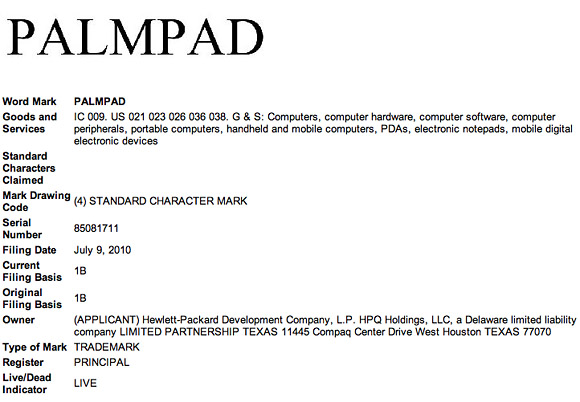 That's a mighty rich collection of categories for "Goods and Services"
Of course, in April Steve Jobs told the developer of an iPad app once known as the journalPad that "Its just common sense to not use another company's trademarks in your app name" — even though there's no indication that Apple does, indeed, have a trademark on the term "pad".
But that developer, APPideas (aka CostmoSoft), caved when confronted by Apple's insistence that they remove those three offending letters from his product name. Not that we blame them. Apple's control over its App Store is absolute.
It's unlikely, however, that deep-pockets, legally adroit HP would respond to a Jobsian threat with a simple: "Yes, master, I hear and obey." ®