Ten... Premium iPod Speakers
Superior sounds up to 11
Product Round-up Audiobores... er.. philes will be the first to tell you that the quest for decent home audio is one best not started with an iPod in one hand and a wad of cash in the other. Apple's DACs may not be quite the full shilling, and the lack of support for Flac hardly helps the company's standing among those who have no gods before sound quality.
For the other 95 per cent of us with sexual partners, the choice of what we use to pipe our iPod through will have far more impact on the end result than the quality of the digital to analogue conversion or file format so long as said files are of a decent bit rate.
To prove that iPod docks don't have to look or sound cheap and nasty, I took a gander at some of the more upmarket iPod sound systems around.
It should go without saying that all the docks on test here sound good - I wouldn't be bothering with them to start with if they didn't - but some sound very, very good.
Most of them aren't bad lookers either. While I'd be the first to agree that sound quality trumps aesthetics, I for one don't want to splash out three hundred plus quid on something that looks like it was glued together in a shed from bits of wheelie bin.
On the subject of price, respected retailer John Lewis reckons that 30 per cent of the docks it flogs cost over £300. So for every seven of you who think paying this sort of money for a speaker system for your iPod is lunacy, three others disagree.
Bose SoundDock 10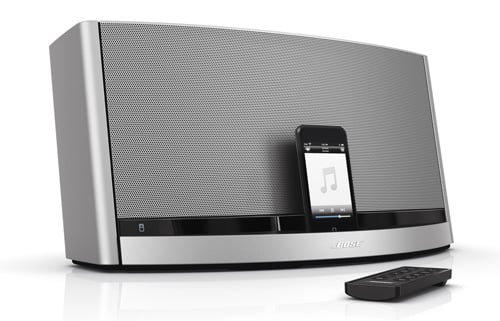 Like Apple, Bose is a brand with some avid fans who are happy to pay more than a little extra for any product carrying the logo. And pay extra we Brits do because in the UK the top-of-the-range SoundDock 10 carries an eye-watering ticket of £699, the best part of £300 more than the US price, $599.
Pricing aside, the SoundDock 10 is an elegant if rather plain - some would say austere - bit of kit, though the initial impression is simply one of sheer size - by heck its a big old lump. The Bose produces an enjoyable sound though it doesn't beat the Zeppelin by any significant margin generating a little less bass in favour of a crisper, clearer and more clinical sound. The SoundDock has no controls on the main unit. So, lose the remote and you'll be left fiddling with your iPod's controls while in situ to manage even the volume.
Reg Rating 70%
Price £699
More Info Bose
Input Sources iPod, 3.5mm stereo, Bluetooth
Speakers 2 x 44.5mm "twiddlers", 1 x 178mm woofer
Power Output Not specified. 100W?
Power Consumption Average: 23W. Stand-by: 4.7W
Dimensions 432 x 244 x 221mm, 8.4kg