Ten... Premium iPod Speakers
Superior sounds up to 11
Bowers & Wilkins Zeppelin

The default choice in posh iPod docks, the Zeppelin is nearly three years old but age has not withered it one iota. A superb piece of design - though one whose size pushes the meaning of 'bookshelf standing' beyond what most would understand by the term - the Zeppelin is a gorgeous if very modernistic blend of form and function that few are likely to be unimpressed by. Sound quality is top notch: superbly balanced and full bodied no matter what the volume with excellent projection and separation. The stainless steel airship body is built like a brick out-house, though at £400 a pop so it should be. The docking arm is a brilliant bit of design and almost worth the asking price alone, while various sound profiles can be accessed using a special iPod menu that appears when docked.
Reg Rating 95%
Price £399
More Info B&W
Input Sources iPod, 3.5mm stereo, optical digital
Speakers 1 x 125mm bass, 2 x 90mm mid-range, 2 x 25mm tweeter
Power Output 100W RMS
Power Consumption Average: 21W. Stand-by: 4.1W
Dimensions 640 x 208 x 173mm, 7.5kg

Fatman iTube ValveDock Carbon Edition 2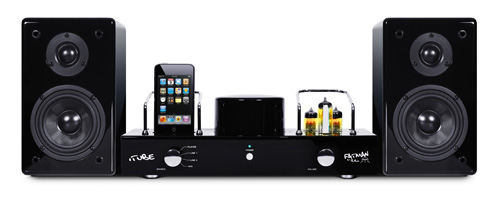 A dock for steam punk fans that eschews all this digital nonsense in favour of good old valves. Looking more like a hand crafted hi-fi separate than a modern dock, the Carbon is dominated by three lovely glowing vacuum tubes and a big round transformer. Without coming over all Bob Harris, those valves do counter some of the coldness and sterility that digital music sources are often accused of producing and makes the Carbon 2 the closet you will get to analogue audio this side of a Linn Sondek and a good LP collection.
By dint of not having its speakers physically attached, the ValveDock can create the the sort of stereo separation the other units on test here can only dream about. A word of warning though, the bundled bookshelf speakers are no better than average, so my suggestion to improve sound and save a few quid is to buy your ValveDock without them and head to Richer Sounds for a nice pair of Wharfedale Diamonds or similar.
Reg Rating 80%
Price £250
More Info Fatman
Input Sources iPod, 3.5mm, RCA phono
Speakers N/A
Power Output 2 x 25W RMS
Power Consumption Average: 18W. Stand-by: 2.2W
Dimensions 374 x 205 x 155mm, 5.8kg