Ten... Premium iPod Speakers
Superior sounds up to 11
Fidek iBigboy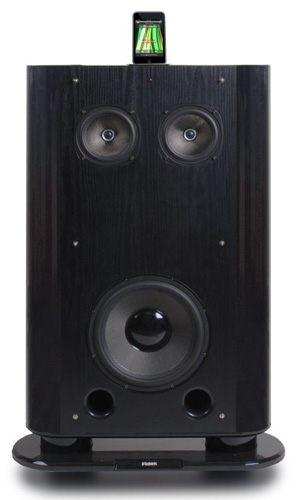 The iBigboy from Honk Kong-based audio maker Fidek isn't so much 'iPod dock as furniture' as 'iPod dock as monumental architecture'. The lads who built Stonehenge would no doubt get wood just from looking at the box the thing comes in. The size of a book case and weighing a massive 24kg, the iBigboy is truly huge and with 240W of amplification on tap so is the noise it can make. Turn it all the way up and you won't just wake the neighbours but the dead too. The 10in sub-woofer will get the joint jumping and the foundations cracking.
The iBigboy can easily fill even the largest room with superb quality sound and is also very competent at lower volumes. It also did a good job when connected to my telly. There's no shielding, though, so slip your iPhone into flight mode or you could end up with 240W of GSM interference - which sounds like a Chinook landing in the garden. If you want to impress visitors with the size of your woofers, the speaker cover is attached magnetically and can be removed in a trice. The full function remote control isn't bad either.
Reg Rating 85%
Price £399
More Info FiDeck
Input Sources iPod, FM
Speakers 2 x 25mm tweeters, 2 x 130mm woofers, 1 x 260mm sub-woofer, 2 x 60mm bass ports
Power Output 240W RMS
Power Consumption Average: 38W. Stand-by: 9.3W
Dimensions 581 x 860 x 220mm, 24kg

Geneva Sound Model L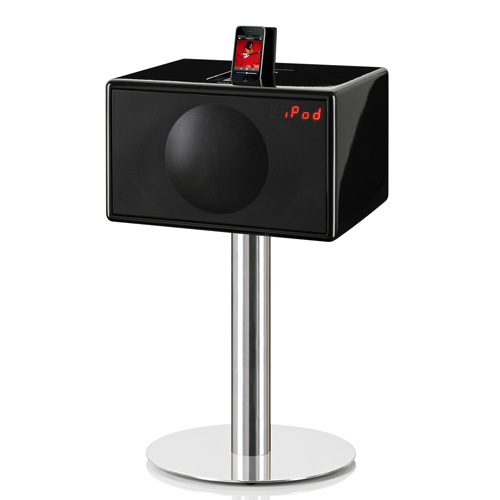 The words unique and gorgeous can be applied to the entire Geneva Sound range each member of which follows the simple design formula of a large wooden cube with a dock on the top. The LED lights hidden behind the speaker grille should impress guests, as will the beautifully crafted and rounded lacquered wood cabinet. The Model L isn't all about looks - the sound it produces is wonderfully expansive, warm and mellifluous. I have always found Geneva Sound players to be especially well suited to the classical repertoire but no matter what genre of music floats your boat, your ears won't be disappointed. In short, the Geneva L is hugely expensive and hugely appealing though sadly the funky 13kg aluminium floor stand will set you back a further £159.
Reg Rating 85%
Price £849
More Info Geneva Lab
Input Sources iPod, FM, 3.5mm, CD
Speakers 2 x 25mm tweeters, 2 x 135mm woofers
Power Output 100W RMS
Power Consumption Average: 16.5W. Stand-by: 1.5W
Dimensions 448 x 291 x 365mm, 17.2kg