Ten... Premium iPod Speakers
Superior sounds up to 11
Pioneer XW-NAC3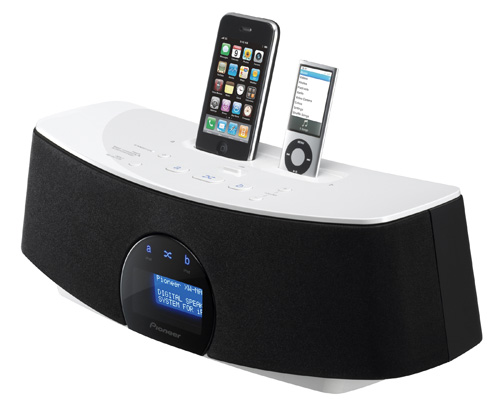 A bookshelf unit with not one but two docks so you can re-charge your iPod and iPhone at the same time - and even shuffle between them for a two-source mix. That's not the only trick up the Pioneer's sleeve: you also get stereo Bluetooth; a USB socket to play Flac, WMA, AAC and MP3 files; DNLA LAN access; and more internet radio stations than you can shake a stick at, including all the BBC Listen Again feeds.
With only 2 x 10W on tap, it's not the loudest unit on test, but the sound is well rounded, with a decent amount of bass and things never get ragged even with the volume turned up to 11. The XW-NAC3 is fully shielded against GSM interference and comes with an excellent little remote control that provides full iPod menu navigation, the information from which can be read of the large blue LCD display. All in all, a device for those more interested in technology than style or out and out sound quality, but still worth a look and a listen.
Reg Rating 80%
Price £300
More Info Pioneer
Input Sources iPod x 2, 3.5mm, Bluetooth, Ethernet, USB
Speakers 2 x 66mm full range
Power Output 20W RMS
Power Consumption Average: 8.5W. Stand-by: 2.1W
Dimensions 410 x 135 x 153mm, 2.9kg

Sony RDP-X80iP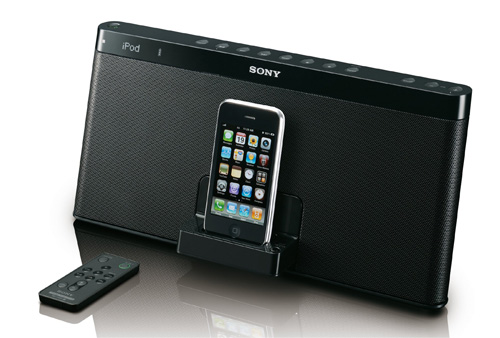 A brand new dock that sits at the pinnacle of its maker's range, the X80iP has a hidden benefit in the form of a rechargeable battery tucked away inside making this the only dock here that can be used where mains cables fear to tread. The styling is a little too Sony generic for my taste - some would call it downright dull - but much is forgiven when it starts to play music. The results are really rather impressive, with plenty of volume on tap and an impressive feeling of warmth and balance.
Externally, the X80iP is distinguished by a rather attractive when active, invisible when not OLED screen built into the top of the unit, and by a lovely damped dock that rotates out from the body. Sony reckons the battery pack is good for seven hours of playback. I found that to be just a shade optimistic: five and a half was the best I managed.
Reg Rating 75%
Price £249
More Info Sony
Input Sources iPod, 3.5mm stereo
Speakers 2 x 75mm full range
Power Output 2 x 20W RMS
Power Consumption Average: 9.5W. Stand-by: 1.8W
Dimensions 356 x 119 x 163mm, 1.9kg