This article is more than 1 year old
YouTube, iPlayer on a TV? Simples
You don't need a mega set top box...
Simple solutions usually beat over-engineered ones, and a UK software startup I've met might have solved a couple of the biggest headaches of watching web video. I came away from the demo wondering why people hadn't thought of doing this before.
Currently, there's a problem getting the vast amounts of web content out there - on sites such as YouTube, iPlayer or Hulu - so you can watch it in comfort on your sofa. The various industries have tried to address this in a few different ways. There are huge engineering projects that chuck the kitchen sink into the set-top box - Google TV or the BBC-led Canvas. Or there are walled gardens, that hand-pick a tiny selection of web material the manufacturer deems safe: Panasonic's Viera Cast, for example. Many of us have hooked up a home PC or Mac to the TV, which means wrestling with something like Windows Media Centre, Apple's FrontRow or Myth TV - but these still allow you to watch YouTube as a "sit-back" experience.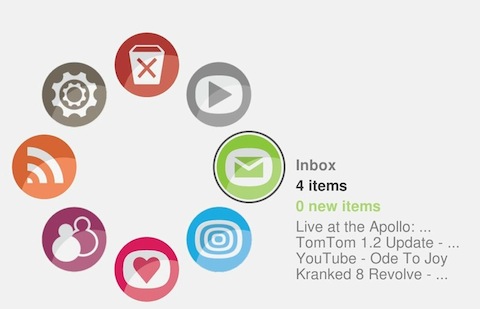 The "home" screen
Vidiactive's software puts YouTube and iPlayer on your living room TV so you don't have to fiddle around with a laptop. It also allows you to discover web video, unobtrusively, for watching on the big screen. It may still be a bit unpolished (it's version 1.0) but it already does 90 per cent of what people want, using web standards that are already out there, and content that's already out there too.
The company is a small start-up staffed by experienced British techies, and the is software designed to be embedded in other people's set-top boxes, or TVs, or a very low cost dedicated box. Vidiactive has an ARM-based reference box, but the demo I saw was on an Atom laptop. Broadband operators also might be interested in bundling a cheap box with broadband contracts, the company hopes.
CEO Ben Hookway, says that the two industries converging both bring strange assumptions when they design products.
"The TV world doesn't get the difference between a shared screen such as a TV and a personal screen such as your laptop. They want to put Twitter on the TV screen, or put email on the TV screen - but what you do on a personal screen is different to what you want on a TV."
For their part the broadcasters are obsessed with control, and have no desire to make it easy for us to hop out of the walled garden to watch (say) Drum and Bass Church Rave. Why would they? Even Canvas, which on paper started out with very similar simple goals before succumbing to platform-itis, is now an old-school tussle between media giants over EPG placement, and which relegates YouTube to a sub-submenu.
It's probably best illustrated by this rough 1.x software - a slicker UI is underway - but this illustrates the simplicity of the approach.