Despite Steve Jobs' assurance that "There is no Antennagate", that squeaky-hinged barrier keeps a-flapping — and more than one good soul has found humor amid the grating creaks. Or the creaking grates. Or whatever.
Take, for example, the euphoniously psuedonymed Ms Annabel Tenna, whose new Judasphone.com website (she must read The Reg!) seeks to gently tweak Cupertinian smuggery by means of doctored images and rewritten marketing fluff: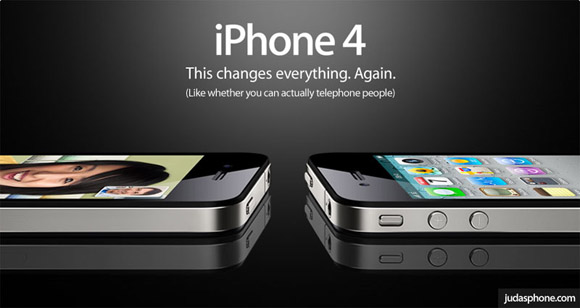 'Gap of Doom™' conveniently not in Apple's original marketing image
Ms Tenna includes her contact information on Judasphone.com, and notes that she is collecting artwork, should you care to add yours to the site.
Another bit of risibility focuses on the fact that Consumer Reports and others have noted that the Death Grip effect can be countered by a strip of tape across the Gap of Doom™ on the iPhone 4's external antenna.
Standing head and shoulders above the crowd of tape jokers is Jason Nolasco, who, as reported by Cult of Mac, will send you an iTape Signal Booster for a mere two bucks, and donate the proceeds to the American Cancer Society: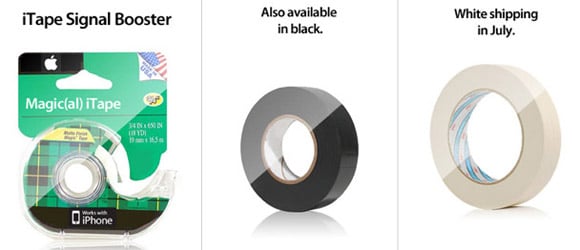 White iTape should arrive approximately contemporaneously with the white iPhone 4
And finally comes Antenn-aid, a colorful set of six miniature band-aids designed to close the aforementioned pesky gap. "Apple made a boo-boo," their copy reads. "Make it all better."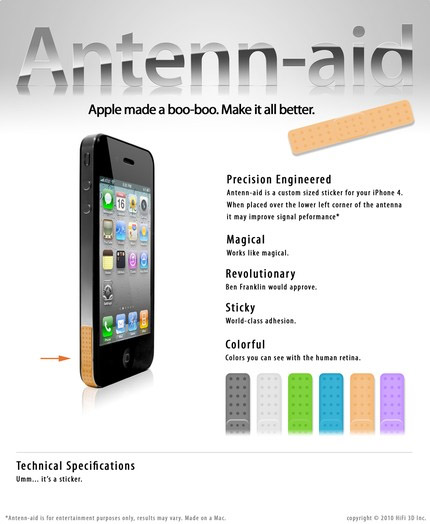 'Technical Specifications: Umm... it's a sticker.' Nice
Antenna-aid's seller, by the way, issues a disclaimer that the item is "for entertainment purposes only, results may vary". We'll resist riffing on Steve Jobs' own "results will vary" outlook on mobile phone technology, and merely note that for true tape-induced relief, Anandtech recommends tape based on DuPont Kapton PST. Alternatively, you could check out 3M's Polymide Tape — essentially the same stuff. ®