This article is more than 1 year old
Google image search gets facelift
Nips, tucks, and ads
Google has revamped its image search service, rolling out a spruced-up interface and a new breed of image ad meant to dovetail with "organic" results.
Designed to "make it easy to look at more images at once," the new interface uses a tiled layout that eliminates all that white space that turned up on the old version of Google Images. It displays up to 1000 images on a single scrollable page.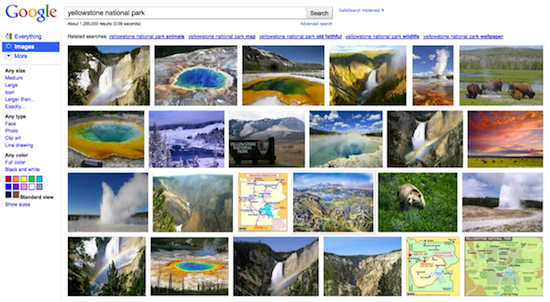 It also offers larger thumbnail previews; a "hover pane" that appears when you mouse over a preview, giving you an even larger preview; a new landing page that appears when you actually select an image, superimposing the image atop the website it was pulled from; and improved keyboard navigation. The service now responds to page up and page down keys, for instance.
"We hope they not only make it easier to search for images, but also contribute to a better aesthetic experience. We see images as a major source of inspiration, a way of connecting the world—and their growth is showing no signs of slowing down," reads a Google blog post.
According to the post, the update will be rolled out to users across the globe over the next few days.
The new Images Search Ads will only appear on Google Images, and yes, they includes images as well as text. "We hope they're a useful way to reach folks who are specifically looking for images," Google tells advertisers.
Google has been testing various image ad formats since the spring of 2008. ®