Who'll run Nokia?
Surprisingly, neither of the two most prominent internal candidates, Anssi Vanjoki (head of phones) and Tero Ojanperä (orbiting multimedia visionary) are being considered. Executives at US tech companies are being canvassed instead, the WSJ reports.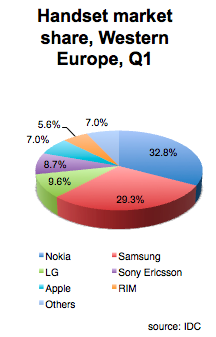 Nokia enjoyed a market share of over 50 per cent
in Europe throughout much of the Noughties
But then both insiders are Nokia veterans - with 39 years experience between them - and are tainted with the recent failings. Ojanperä bears the blame for the Ovi strategy, an expensive attempt to develop Nokia services when Facebook, Google and Twitter are the brand names customers look for on the high street, and which has made Nokia devices less competitive… and Comes With Music. Vanjoki's accomplishments are N-Gage, multimedia, and the obsessive focus on segmentation strategies rather than great products while running Nokia's Markets division.
Nokia's token American executive Mary McDowell isn't in the frame, while Venezuelan-born Alberto Torres, a former McKinsey guy who has deep experience of the US market (he interned at Apple) is apparently happy running Nokia's Vertu bling phone division. But who wouldn't be?
The new CEO will find plenty of assets - the brand name and the R&D budget - which can leverage Nokia into lots of funky consumer electronics propositions. But he or she will be hampered by a large bureaucratic organisation, European employment legislation that makes clearing away the dead wood difficult, and a product pipeline that is embarrassingly bare.
And as I noted last week, the new CEO doesn't have the luxury of a Lou Gerstner at IBM in 1993, with customers locked in for years and reluctant to move on. The new leadership will have to act swiftly and decisively. Here's a useful primer video for the wannabe turnaround artist.
Send us your candidates, and we'll open a book. Note that our spam checker is primed to reject "Fiorina" automatically. ®
Similar topics