Advent MT22 21.5in touchscreen all-in-one desktop
Budget point and prod PC
Review Although best known for its low cost PCs and laptops, Advent does occasionally produce slightly more interesting models. Its new MT22 all-in-one PC is a case in point, and follows on from previous attempts such as the AIO-100 and AIO-156.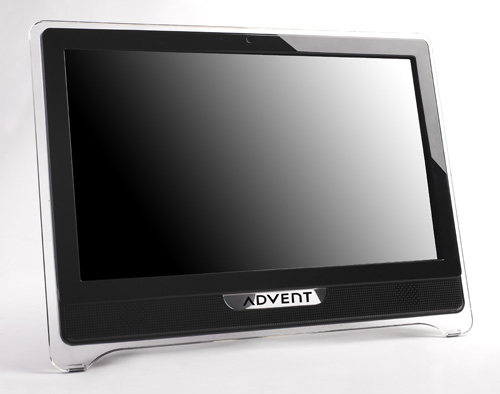 Advent's MT22: finger friendly all-in-one
Based around a 21.5in touchscreen, the MT22 isn't the most attractive all-in-one PC on the market. Compare it to HP's TouchSmart 600 or the Dell Inspiron One 19 Touch, for example, and it starts to look just a little bit ugly. The thick acrylic bezel surrounding the screen doesn't help matters, nor for that matter does the bargain-basement wired keyboard and mouse set included in the package.
Propped up by a stand at the rear, the MT22 can be angled to suit. As with all touchscreen displays, reflections are a problem; despite the screen being reasonably bright, you'll need to be careful to place it away from nearby light sources.
The majority of ports are kept out of sight at the rear and include four USB, eSATA, Gigabit Lan and HDMI. A further two USB ports are found on the left side of the screen, along with a multi-format card reader and DVD writer.
During testing, the touchscreen worked reasonably well, although there was a short but noticeable delay in the screen recognising finger presses. What's more, unlike other touchscreen displays I've seen, it's only able to recognise up to two fingers at a time. As expected, Microsoft's Touch Pack suite is preinstalled – although fun at first, you'll soon tire of making splashes in a pond or inanely chasing a boat round with your finger.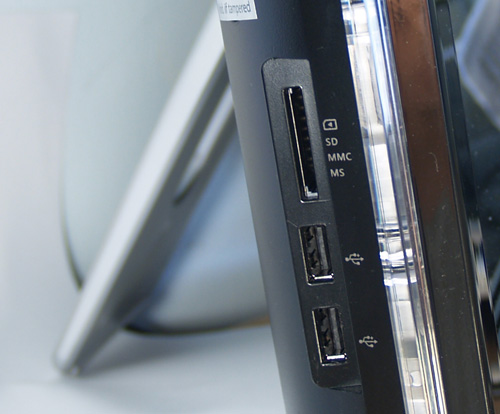 Easily accessible ports on the side
With some careful finger control I was able to perform most Windows tasks, but the fact remains that almost all of them are better-performed using a keyboard and mouse. And it's this that often leaves me wondering whether Windows and touchscreens are really that well suited.