This article is more than 1 year old
UK's Watchkeeper drone 'can see footprints through cloud'
Also 'keep off the grass' signs, apparently
Farnborough UK military robot spyplanes due to be fielded in Afghanistan within two years are fitted with radar so sensitive, according to its makers, that it can detect not only individual people moving about on the ground - but even the footprints they leave in the dirt.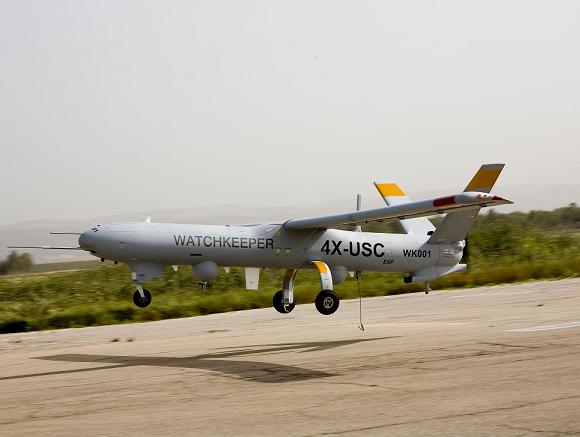 Now with footprint-following mode.
The spyplane in question is the (in)famous Watchkeeper now under development by Thales UK for the Royal Artillery's surveillance-drone units. Watchkeeper is a modified version of the Israeli Hermes 450 with added French and British bits and pieces. For now the British army are using ordinary Hermes 450s leased via Thales in Afghanistan, the embarrassing "Phoenix" drone having been deep-sixed without regret in 2008.
Watchkeeper actually made its first flight in 2008, but didn't enter British skies until this year. Thales flying spyrobot chief Nick Miller, briefing reporters at the Farnborough airshow today, said that Watchkeepers will start being handed to the MoD next year and following government testing will begin to replace Hermes 450s in Afghanistan gradually.
Major Matt Moore of the Royal Artillery also gave a rundown on Hermes 450 operations at the moment in Iraq, showing how the aerial spy drones can often finger gunmen and bomb-planters before they act - either warning nearby Coalition ground forces of danger, or calling in a strike from armed aircraft.
One airborne spy-robot buzzword du jour at the moment seems to be "pattern of life" - in which soldiers operating airborne spyeyes become familiar with ordinary activity around villages etc, so that oddities such as groups of people on the move at night are easily picked out for further investigation.
Another is "ISTAR* Soak", where an area of interest is saturated with constant spyeye coverage for a period - a good way to learn about pattern of life, and the only way for "drinking straw" sensors like the Hermes' electro-optical camera to have much chance of finding enemies without being given a clue where they are first.