New wide-angle drinking straws, ideal for soaking places in ISTAR juice
The main special sauce that makes an H450 into a Watchkeeper (apart from refinements such as anti-icing gear, automated takeoff and landing, UK airspace certification etc) is the Anglo-French I-MASTER radar.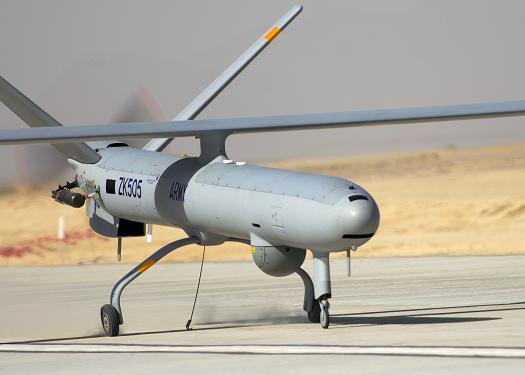 Can't see keep off the grass signs - but it's over there now
This is not a drinking-straw sensor: rather, it can sweep wide areas of ground and pick out moving targets. Miller was especially proud of the "change detection" offered by the Watchkeeper, which allows images of the same piece of ground from different times to be compared - detecting vehicle tracks and even footprints which may have been left since the first image was taken.
Likewise a Watchkeeper assigned to "ISTAR soak" can monitor normal patterns of foot and vehicle traffic around the clock, through clouds and darkness as required. It can tell if local people suddenly stop using a given road or track, for instance, giving an indication that something nasty has been prepared there.
According to Miller, I-MASTER has been known to detect objects as small and low-lying as "keep off the grass" signs in tests.
This sort of thing is already available in other roboplanes, however - notably the much cheaper Sky Warrior now being delivered to the US Army. The Sky Warrior, too, is armed; so avoiding the need to call in a Harrier or F-16 as at the conclusion of two of Major Moore's combat videos. (In one of these a group of 10 enemy gunmen was hit with a 500-pound bomb which appeared to devastate the entire area they were in. "Four or five" still escaped though, according to the major.)
Thales has exhibited Watchkeeper mock-ups with weapons in the past, indicating that Major Moore's fellow Watchkeeper soldiers might in future be able to take out targets themselves rather than going through the time-consuming and error-prone procedure of talking in a fighter pilot to hit just the right spot with cannon fire or bombs.
We asked if the Army had any interest in acquiring such capabilities (even though this might seem likely to lay them open to a turf grab from the RAF, and/or accusations of taking away business from their fellow artillerymen manning the big guns).
"We're looking at all options," said the major. "Should it be air based, ground based ... the RAF could do it. But armed ISTAR UAV is an option. In time it may happen." ®
*Intelligence, Surveillance, Target Acquisition and Reconnaissance - the broad category of military people and stuff which look for and at things rather than shooting or blowing up stuff themselves