Raptor over Blighty: Watch the stealth fighter in infrared
Tail-balancing 'thermos' jet outclasses Eurofighter
---
Also at Farnborough - 1980s tech at Raptor prices - Italy cuts Eurofighter order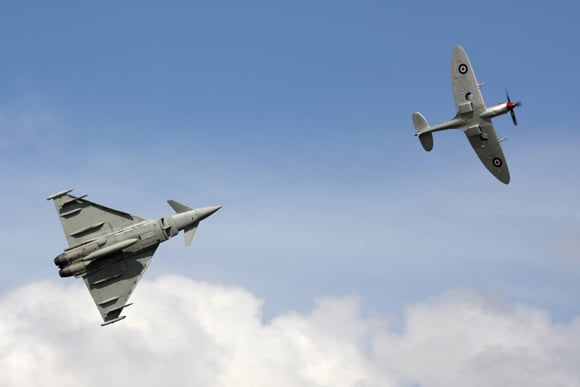 One of these is a truly great British-made fighter plane
Also at the show is the Eurofighter Typhoon, set to cost the British taxpayer somewhere from £20bn to £25bn once modernisation and upgrading for use as a bomber as well as a fighter are complete. The Typhoon currently lacks an electronically scanned radar as sported by the Raptor, for instance. The RAF is likely to receive 160 planes for this, though many will be mothballed as the service does not require and cannot man up nearly so many Typhoons.
The likely useable UK fleet of say 120-30 jets (including some spares to allow for crashes etc; quite possibly fewer than this will be required following the current cuts/review process underway at the MoD) will thus have cost Uk taxpayers £200m apiece or more, well north of $300m at current rates.
That's in the same price range as a Raptor (just 185 Raptors are to be made, which has pushed their unit price up). But the Eurofighter has no stealth, no thrust vectoring, not even a proper radar yet.
It costs like a Raptor, despite the fact that it is being made in much larger numbers, yet by comparison it is obsolete. The cost overruns on the programme, in the opinion of UK Treasury lawyers anyway, have released the UK from its pledge to buy 232 Eurofighters and keep 90+ of them in storage doing nothing. Even BAE Systems now accepts that the remaining "Tranche 3B" UK purchase is not going to happen.
It's no surprise then that Italy's defence minister, speaking at Farnborough, has just slashed his country's order from 121 jets to 96. Evidently his advisors have perceived the same escape mechanism as the British are using.
It's gloomy news all round, in fact, for the assembled European arms makers here at Farnborough: and the Americans are facing similar austerity on their side of the pond, too. But with both sides' armed forces engaged in bloody ground warfare against an enemy without air forces in Afghanistan, and both sides' governments needing to pay for the huge economic rescue handouts of recent years, taxpayers at least will probably be staying cheerful. ®