This article is more than 1 year old
Mac sales tripled since 2005
Jobsian wave sweeps Asia
Amid all the ballyhoo and whoop-de-doo about Apple's resurgence being a result of the consecutive successes of the iPod and iPhone — and the promise of the iPad — one Cupertinian money-maker has been flying under the radar: Mac sales have tripled in the past five years.
During the company's recently completed $15.7bn third fiscal quarter, Apple sold 1 million desktops (iMac, Mac mini, Mac Pro and Xserve), accounting for revenues of $1.3bn, and 2.47 million notebooks (MacBook, MacBook Air and MacBook Pro), bringing in $3.1bn.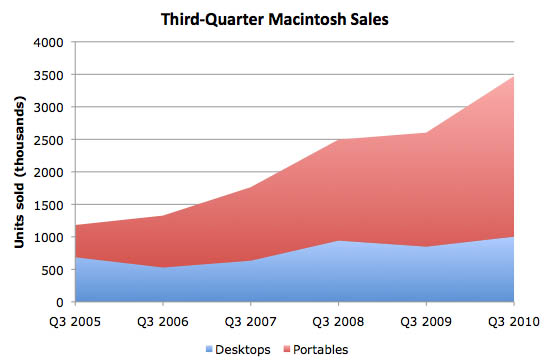 While the iPhone et al have been capturing headlines, the Mac has been capturing hearts and minds
Overall, that's a 33 per cent unit-sales uptick when compared with the same period last year — a quarter that, while admittedly not a barn-burner, was still respectable.
A glance at the just-finished quarter's SEC Form 8-K shows that the total Mac revenue of $4.4bn, though lagging behind the iPhone's $5.3bn, was still head and shoulders above the iPad's $2.2bn, iPod's $1.5bn, and iTunes' $1.2bn.
Compare that with, say, the third quarter of 2005, when Macs pulled in under $1.6bn, the iPod contributed $1.1bn, iTunes a meager $241m — and the iPhone and iPad were merely a gleam in Steve Jobs' eye.

Whether you're a fanboi or a hater, the numbers don't lie (click for larger version)
In a conference call with analysts and reporters detailing the company's Q3 2010 results, Apple COO Tim Cook provided one insight into why Mac sales have tripled since Q3 2005: sales outside of the US, and especially in Asia, are skyrocketing on a percentage basis.
Speaking about what he referred to as "extraordinary" sales-development prospects in Asia, Cook said: "If you look at the Mac as an example, in Asia-Pacific the Macs grew 73 per cent year-over-year. This is phenomenal, that we could grow by this much. And in China we grew 144 per cent. In Korea we grew 184 per cent. In Hong Kong we almost doubled."
Of course, if you sell four Macs in Seoul one year and nine the next, your Korean sales have "almost doubled" — but the overall numbers don't support that depth of mathematical trickery: in Q3 2009, 394 thousand Macs were sold in Asia-Pacific; 260 thousand were sold in the same period the previous year. That's over 50 per cent growth, and none too shabby.
And perhaps more interestingly, the ASPs (average selling prices) of those Macs increased far more than their mere numbers: Apple pulled in more than $1.8bn in Mac sales from Asia-Pacific in Q3 2010, but only $703m in Q3 2009.
By the way, Apple doesn't lump Japan into its Asia-Pacific numbers — they're their own Mac line item. In the most-recent quarter, Mac sales in Japan were $910m; in the same period last year they were just $560m. That a 63 per cent jump year-on-year.
And so the trusty ol' Mac goes its merry way, quietly capturing scads of cash for Cupertino while letting the flashier gadgets grab the headlines. ®