Hitachi hides Magic Wand vibrator under a bushel
Floats like a butterfly, sounds like a lawnmower
---
Comment There's one HItachi product you won't see at the company's uValue 2010 convention in Tokyo, the Magic Wand vibrator.
Visitors will be told about the huge breadth of Hitachi's product range, running from nuclear power stations through the bullet train to supercomputers, servers, storage arrays and even nappy sensors, but not about a product which really hits the spot, the G-spot.
Originally intended as a tissue massager to get rid of aches and pains, this changed when feminine users found it massaged away different tensions. It was featured in Sex and the City and sales roared ahead, helped by its tennis ball-like head, two speed settings, and constant and powerful vibration. According to the Amazon sales blurb it has been the most popular massager for many years.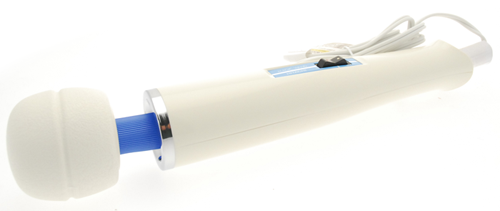 Amazon reviewer A Evans said: "While it's really great in the bedroom, it's also phenomenal on sore muscles. Nothing relaxes my aching feet more than a run with this massager … Lower back pain, upper back pain, cramped shoulder muscles, neck pain, hip pain, this thing does it all." Just the thing for sysadmins with backache, or tired storage execs needing to relieve tension.
Reviewer Lovelylindsay24 said it was "Heavy, loud and awkward, but gets the job done!". This is praise indeed from a reviewer who likened its sound level to a lawnmower. You might think lawnmowers would be noisy when they get near a bush but we couldn't possibly comment.
The list price is $60 but you can buy one on Amazon for $32.55.
We were told about the Magic Wand by an embarrassed Hitachi executive who hinted that Hitachi was somewhat ashamed of the product and didn't want to publicise it. Unfortunately for the Japanese giant, the thing sells just too well for it to contemplate stopping production. ®