The iPood, a small spade used by Aussie campers to bury their shit, has a new name following an intervention by Apple lawyers.
In a letter to the iPood makers, Apple's legal eagles said: "iPood is clearly similar to Apple's iPod, there being merely a single letter difference."
That could have been worded better, don't you think?
"For obvious reasons," the letter continues," Apple's reputation for clean design and high-tech electronics will suffer should it be associated with latrines and the like through Sea to Summit's use of iPood."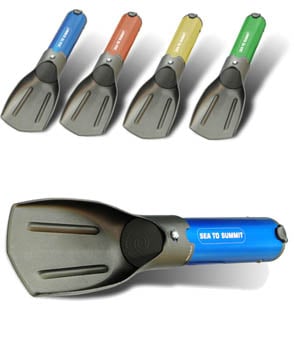 iPood is to be renamed the Pocket Trowel by the manufacturer, a Perth outdoor adventure equipment supplier called Sea to Summit.
The company registered iPood as a trademark in Australia in 2006, after "identifying a hole in the market". We are not making this up.
It is sturdy and alumnium and ethically sound. And it has, or had, a great name.
We are sure that the publicity surrounding the name change will help sales. It also shows that lawyers don't always have to be attack dogs to get the results their clients require.
Link WA Today [Hat tip to Ian.]