Review Beyond the entry level market for NAS (network attached storage) there is the kind of buyer who has big server requirements within a small operation, and thinks they might get a great deal bigger later on. That's who HP's MediaSmart Server EX490 is aimed at.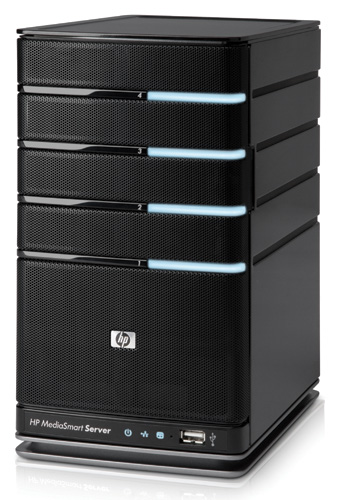 HP's MediaSmart Server EX490: looks like a hi-fi speaker, but much quieter
Except that it's a curious market segment: these buyers might be running a small business with multiple computers, or they might be domestic users who want something to maintain their rapidly expanding media library and drive their home entertainment setup. To its credit, HP has created a product that should satisfy both types of buyer without sacrificing power or ease of use.
The MediaSmart Server EX490 stands 24.8cm tall, 14cm wide and 25.1cm deep, encased tastefully in black with a cage-like metal grill mesh at the front and rear. Four bar-shaped lamps indicate the presence of hard drives inside, although only the bottom one is lit. The front swings open on hinges like a door to reveal four 5.25in hard drive bays in a stack, the bottom one being filled with a 1TB drive.
The idea is that, as your storage demands increase, you can simply add more SATA drives one by one. The unit allows hot swapping so you don't have to shut down the server entirely in order to add or remove a drive. Each bay is accessed by swinging out a handle and pulling out a tray in which the drive sits. To fit a new drive in an empty bay, you would pull out its tray, snap the drive into it (no screws required), then slot the tray back in until it locks. It couldn't be much simpler.
Unlike other multi-bay NAS products, the MediaSmart Server EX490 does not support conventional RAID options. However, you can set up what HP calls 'disk duplication' between pairs which works similarly to a RAID 1 array: if one of the disks fails, its duplicate continues to operate without interruption. For this, you will need two or four identical drives, and the duplication means you can only make use of half their total capacity.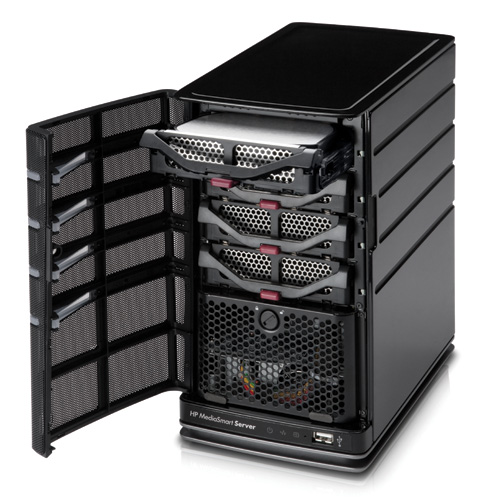 Hot swappable drives
Further storage devices can be added externally, either to expand server capacity or to back up the server content. To this end, one eSATA port and three USB 2.0 ports are fitted at the rear of the unit, and there is a fourth USB 2.0 port accessible at the front. For even more expansion, you can connect a SATA port multiplier rather than an eSATA drive directly. These are pretty good storage expansion options for such an affordable little product.