This article is more than 1 year old
Buffalo USB 3.0 PCI Express card
SuperSpeed drives and cards compared
Review In an age where the latest SuperSpeed USB 3.0 interface has yet to be officially supported by Intel, storage vendors in particular, are keen to build the best add-on PCI Express adapter card to take advantage of this fast connectivity.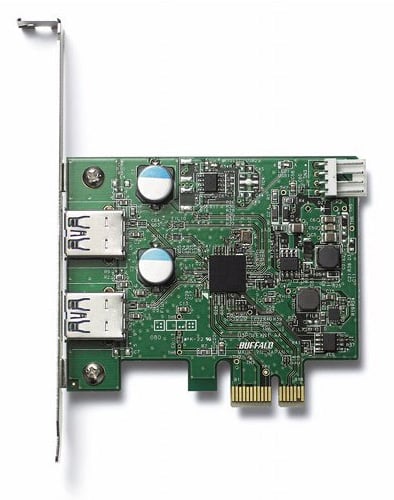 SuperSpeed upgrade, anyone? Buffalo Tech's IFC-PCIE2U3
Currently, NEC's USB 3.0 dual controller chip is pretty much the only option for two port cards. Buffalo's inventively named IFC-PCIE2U3 is one such card and, given the chip choices, offers much the same as found in competing products. For around £40, you get two USB 3.0 ports thanks to the NEC D720200F1 controller which, until the likes of the Fresco FL1009 take hold, remains the dominant USB 3.0 controller.
Buffalo's card is not the first I have used in my test rig. I have tried cards from Iomega and Western Digital, both NEC D720200F1-based. You might think that sharing a common controller would result in driver compatibility between cards, as was the case with the Iomega and Western Digital cards, as both use the same version of NEC's driver However, Buffalo's card is not compatible with the newer driver version.
Admittedly, not many will find themselves in this position, but using the Buffalo IFC-PCIE2U3 required a complete removal of all traces of USB 3.0 from my system before it could be installed successfully. Failure to do so resulted in a crippling of the IFC-PCIE2U3, causing it to operate solely in USB 2.0 mode.
Board design aside, there is only one feature difference among all three cards. This is the additional power input for running those power hungry bus-powered devices. Both Buffalo and Iomega's offerings feature this input, but only Buffalo actually supplies an adapter to plug into a SATA power cable. Whether this powering option is really going to be necessary no doubt depends on the draw of the external device. Certainly, the 'unpowered' cards had no problems running a LaCie Rugged USB 3.0 drive.