Olympus PEN E-PL1 Micro Four-Thirds camera
Superb
---
Review Adding another variation to its popular PEN range of Micro Four-Thirds cameras, the Olympus E-PL1 has done away with the retro style of its siblings, added a pop-up flash and a dedicated movie record button. It has re-designed the menu layout for even simpler navigation, introduced a Live Guide mode for complete novices and downgraded some of the pro options.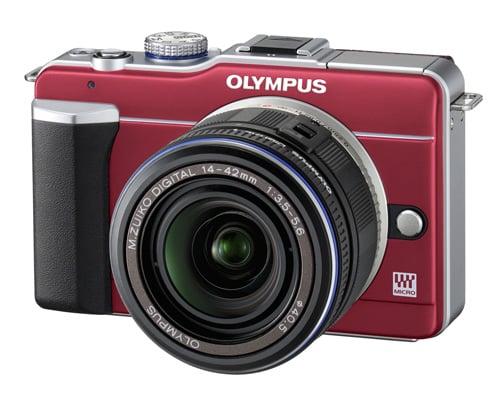 Hybrid offshoot: Olympus' PEN E-PL1
To entice a larger number of beginners to the Micro Four-Thirds format Olympus also keeps the price of this new family member more in line with the consumer market – the body only version selling at £470. The £499 lens kit version includes a cheaper, plastic mount version of the collapsible 14-42mm lens.
The E-PL1 has a contemporary, sleek design and an all-plastic body that at 300g and 120.6 x 69.9 x 36.4mm is both lighter and smaller than its predecessors and most other models in this category. Despite its lightweight plastic construction, the body feels robust and has a raised textured handgrip on the front, which is more ergonomic than the flatter one featured on the E-P versions.
On the left of the top plate, in place of the shooting mode dial there is the new pop-up flash, which is activated by a sliding switch on the rear top right corner, and the familiar hot shoe and accessory port. The mode dial has been moved to the right of the top plate next to the shutter release and is raised rather than being encased in the body as in the E-P1 and E-P2. This repositioning certainly makes operating the mode dial easier.
Like its more expensive brothers the E-PL1 features Manual Mode, Shutter and Aperture Priority, Program Mode, iAuto, Art, Movie and a Scene mode with 19 pre-sets. The back of the camera has been simplified with fewer but larger and easier to press buttons and no control dials. Instead there are four directional buttons for accessing menu functions and a red button to start movie recording in any mode.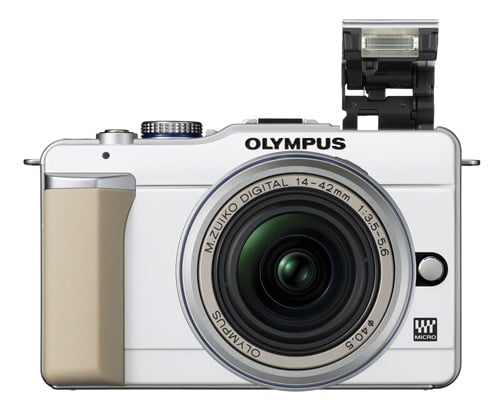 Retro styling has gone, but colour options are available
This cut down interface makes shooting simpler when used in program modes but a lot more complicated if you decide to go manual. The lack of the dual command dials for setting aperture and shutter speed means that, in order to change these key settings, you will have to do quite a lot of button pressing, which can be cumbersome and slow you down a lot.