This article is more than 1 year old
Acer beTouch E400 Android smartphone
HTC beater?
Review Acer is fully committed to producing smartphones, but seems to be slightly schizophrenic in its approach. There are devices in the Liquid range, which tote Android and are nicely high end, devices in the neoTouch range which run Windows Mobile, and devices in the beTouch range which again run Android and occupy the mid to lower ground.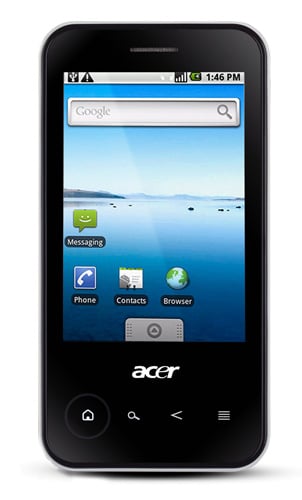 Midfield player: Acer's beTouch E400
As a portfolio, it makes some sense, but with a mishmash of product names and numbers, some of which are overhang from Acer's acquisition of E-Ten way back in 2008, the whole product line can look a bit confusing. Still, what I have here is the Acer beTouch E400, the flagship of the beTouch range. It runs Android 2.1 and includes the usual top end smartphone trio of features - Wi-Fi, GPS and 3G.
Acer doesn't always get things right on the hardware design front, but the Acer beTouch E400 is not a bad looking piece of kit. It is an obvious homage to the iPhone 3GS, with rounded corners and a strip of white (not iPhone silver) running round the chassis edge. The build materials aren't as sleek as those of the iPhone though and Acer has opted for four touch sensitive buttons beneath the screen as well as some rather in-your-face branding.
The touch buttons offer search, back, menu and home functions. These are responsive, and in use it helps considerably that the tiniest bit of haptic feedback is initiated and a white backlight illuminates all the buttons when you hit one. The Home button, on the far left, has a circular frame that is barely visible most of the time. When you are charging the phone it glows red while the battery is charging, green when it is fully charged. It is a nice touch.
If you don't like the black backplate that is on the Acer beTouch E400 when you take it out of its box, you can pop on the provided white or metallic-look red one instead. Acer also provides a screen protector, a slip case and a 2GB micro SD card to bolster the 256MB of Ram built into the device – the card slot is under the backplate. It isn't a bad extras bundle, but how often you'll want to actually swap backplates is moot.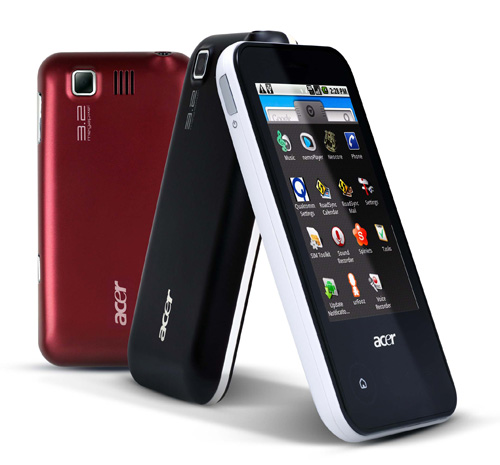 Respectable build quality with a change of backplates on offer too
The sides of the Acer beTouch E400 have a predictable array of buttons and connectors. So, on the right there is a camera shortcut and a volume button, on the left the main power button. The bottom houses the microUSB power and charge connector and on the top edge is a 3.5mm headset connector.