This article is more than 1 year old
Apple, Google, NASA, and the Rainbow connection
Roger Penrose's Silicon Valley crash pad
The first rule of Rainbow is...
The library grew organically, book by book, as did the idea of a modern day salon. The original group of five soon expanded to seven with the addition of an Apple employee and then a Googler. As some residents dropped out, others were brought in, and the group developed an ad hoc interview process for prospective members.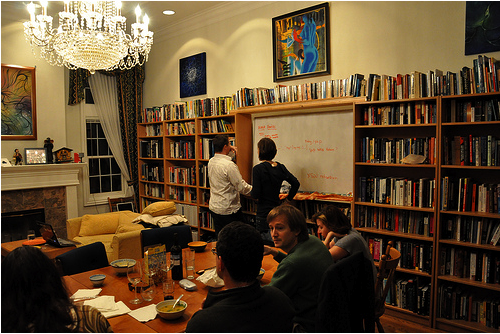 The library
The prerequisite for inclusion, says Sebastian Stadil, is that you have to want to change the world. "That basically captures it rather nicely," says Kemp, who recently left Rainbow after getting married. "If we felt that someone was on a mission to change the world, they got in — even if they couldn't pay the rent.
"We would never consider what people were doing at the moment. We considered what their values were and how they intended to do good — and good could mean anything. Good could be you were trying to develop the sort of gene-sequencing algorithm that provides doctors with the ability to tailor medicine to particular individuals. Good could mean building IT systems for NASA or a better user interface for the iPhone. But people who couldn't explain why they were doing what they were doing didn't last long in the interview process."
David Weekly, a former Rainbow resident, started the world's first not-for-profit donation-based colocation facility, bringing the communal ethos to the data center. He came to Rainbow after the mansion hosted one of his Super Happy Dev House parties, the all-night communal coding sessions that gave rise to PBWorks.
Weekly says that Rainbow isn't unusual — except that it is. "Group living situations are not tremendously rare in the Bay Area," he explains. "We have an unusually high percentage of rentals in part of because home buying is so tremendously expensive, and the leverage goes up as you get more people.
"What's unusual is when you have a really intentional community, when you have a group of people who are determined to build something and really bring people together."
And these are unusual people. Will Marshall is working on a new lunar lander and crawler. Danny Neil is at Stanford's Brains in Silicon lab, modeling the human brain with hardware. And when Sir Roger Penrose is in town, he's been known to join them for breakfast. Penrose, says Sebastian Stadil, enjoys toast with marmalade. ®