This article is more than 1 year old
UK's Zephyr robo sun-plane in record-buster 2-week flight
Ideal for missions not too far from the Equator
The "Zephyr" solar-powered unmanned plane, which has been airborne continuously for the past two weeks above the Arizona desert, has made a successful landing to break several aviation records.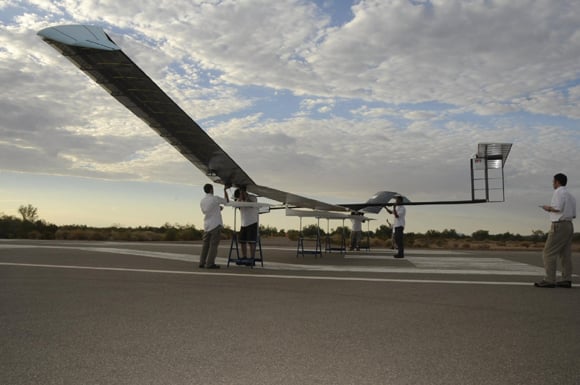 Today, Arizona. Tomorrow, the world - well, the hot bits anyway.
The Zephyr was built by controversial UK defence boffinry selloff bonanza company Qinetiq. It is intended for development into a military platform able to cruise above a battlefield or other area of interest for weeks or months on end, providing such services as surveillance or communications relay.
A Qinetiq spokesperson informs us that the Zephyr set down successfully at the US Army's Yuma Proving Ground in Arizona at 15:04 UK time this afternoon, having been airborne for no less than 14 days and 24 minutes.
During the night the Zephyr runs on lithium-sulphur batteries, which are recharged during the day by its solar cells. Qinetiq says that the machine carried a "a communications payload configured to meet the needs of the UK Ministry of Defence" during its record-breaking flight.
"Zephyr is the world's first and only truly persistent aeroplane," said Neville Salkeld, Qinetiq tech honcho. "We are really proud ... We've now proved that this amazing aircraft is capable of providing a cost effective, persistent surveillance and communications capability measured in terms of weeks, if not months. Not only is Zephyr game-changing technology, it is also significantly more cost effective to manufacture and deploy than traditional aircraft and satellites."
The Zephyr has now well and truly busted the official world record for the longest flight for an unmanned air system (set at 30 hours 24 minutes by Northrop Grumman's RQ-4A Global Hawk in 2001). Zephyr will also have flown longer, non-stop and without refuelling, than any other aeroplane – having significantly passed the Rutan Voyager's milestone of 9 days (216hours) 3 minutes and 44 seconds airborne, set in December 1986. An FAI official was present at Yuma during the flight, so it will go in the record books.
The only possible caveat one might offer before predicting the imminent appearance of sun-powered comms and spy planes around the world is that northern-hemisphere midsummer is only just past. Yuma Proving Ground lies only 32 degrees north of the Equator, so that the Sun is tracking almost dead overhead there at the moment - uniquely favourable conditions for a solar powered plane.
Qinetiq will need to show that they can repeat their feat at other times of year before the Zephyr will be ready, say, for southern Afghanistan. The sun-plane will also have to deal with the serious loss of solar power that comes with northern latitudes if it is ever to find a market beyond the tropical zone. ®