Dodeca-core Apple Mac Pro coming next month
32nm CPUs at last
Apple hasn't - contrary to expectations - updated the Mac Pro, but it did today promise to do so soon.
The new version will sport one or two CPUs for a total of four, six, eight or 12 cores, all Intel 32nm Xeon workstation and - on the dual-processor rigs - server chips. Since they have HyperThreading on board, that makes for up to 24 virtual cores running in parallel.
Support for Intel's Turbo Boost tech means the CPUs can auto-overlock if there's thermal headroom to do so, jumping from the baseline 2.93GHz to 3.6GHz.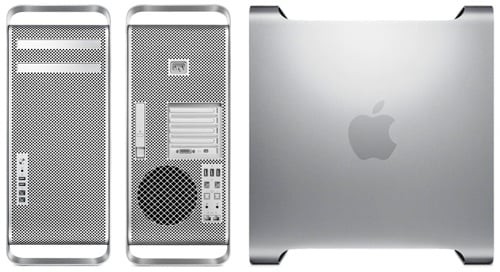 You can spec these boys with up to 32GB of 1333MHz ECC DDR 3. On the storage front, you can add up to four 2TB 7200rpm HDDs or four 256GB SSDs.
Like the newly released iMac refresh, the new Mac Pro will come with AMD ATI Radeon HD graphics: a choice of the 5770 or the 5870, both with 1GB of GDDR 5 video memory.
802.11n Wi-Fi comes built in - so does Bluetooth 2.1 and Gigabit Ethernet - through two independent ports - plus an 18x multi-format DVD writer.
Connectivity? Four Firewire 800, five USB 2.0 and digital audio Toslink ports.
The whole lot goes on sale in August. Apple hasn't released UK prices, but in the US the new Mac Pros kick off at $2499 (£1612). ®