What with Inception tearing up the cinema box office, this is unlikely to be the last you'll hear of this particular story. A dream diary kept by biologists marooned on the Farrallon Islands, a barren rocky outcrop some 20 miles off the Northern California coast, shows they often shared the same dreams.
Boffins isolated there dreamed of birds and sea lions - perhaps not surprisingly, since there isn't a great deal else on the rocks, visible from the San Francisco shoreline. The Farrallones are also home to two nuclear waste dumps.
"One scientist dreamed the biologists played the cormorants in a game of hockey on West End Island, cheered on by a crowd of drunken elephant seals," the San Francisco Chronicle notes.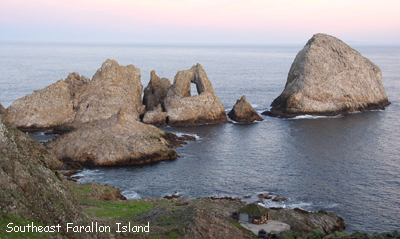 There's bugger all on Farrallon
There's even a picture. The newspaper also offers us this tantalising detail:
"For the scientists, life on the Farallones can be disorienting, vivid and mystical, whether they're awake or asleep, they said."
You bet. The area of California North of the wine country is famed for its potent hallucinogenics, both cultivated and synthesised. ®