Mozilla's second beta for Firefox 4 arrived yesterday and, as expected, it now sets its Chrome-like tabs-on-top feature as default for Mac fanbois.
Windows lovers already saw that interface tweak in the first beta of Firefox 4 that was released earlier this month.
The stripped-back look is supposed to make Mozilla's latest browser easier to control and manage.
Linux fans, however, still don't have access to the tabs-on-top feature. Presumably the open source outfit will set that straight in the third and final beta of Firefox 4, which will be released next month.
Meanwhile, Windows 7 and Vista users now get a single Firefox button that replaces the Menu bar. It provides "the most used options with just one click", explained Mozilla.
Firefox 4 has relegated its bookmarks toolbar to a drop down-style menu button over on the right-hand side of the browser.
It appears to have been shifted out of the way to encourage people to use Mozilla's latest nifty feature - dubbed App Tabs - which seems to be a smarter way of making an individual's most popularly visited websites more permanent within the browser.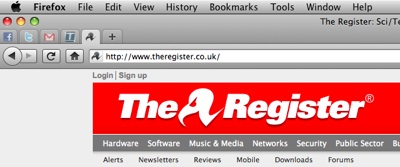 App Tabs make popular web pages more permanent within the browser
Users not happy about losing the bookmarks toolbar can switch it back on, however.
"There are some websites you visit many times throughout your day, such as your email, social networks, music or game sites. Now you can turn the websites you use most into App Tabs to easily find the ones you need," said Mozilla.
In the short-term the latest beta may hit a few bumps as components attempt to play nice with XPCOM module improvements Mozilla has made to the browser.
It said the change would help "pave the way to a better extensions framework", and improve start-up times.
Support for CSS3 features such as "Transitions" and "Transformations" has been added to the latest Firefox 4 beta, allowing coders to easily add animations to web pages.
Retained layers have also been added to the beta, allowing for faster scrolling on complex websites.
Mozilla said it had fixed 670 issues found in the first beta and said feedback from testers hugely helped the team track down and fix bugs.
The third beta of Firefox 4 is expected to land on 6 August.
Features still to be slotted into the browser include "Tab Candy", which Mozilla hopes will help surfers better organise their tabs providing a separate window where you can lay out your tabs like playing cards and sort them into groups.
The full Firefox 4 beta 2 release notes can be viewed here and the latest build is available for download here. ®
Similar topics