Brits trump Ruskies with flying horse
Parasailing donkey? Pah
---
We're delighted to report that the RAF have shown Russian donkey dangler Vasily Gorobets - the man responsible for the Sea of Azov airborne ass - just how it's really done.
Gorobets defiantly laughed in the face of international outrage at his asinine parasailing stunt, and declared: "I'm a hero. Nobody has ever flown a donkey before."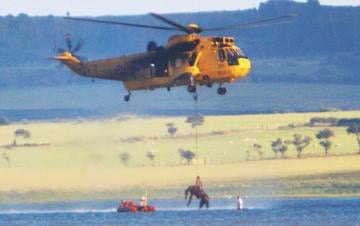 Pah. If you want to do it in style, try slinging a horse under a Sea King helicopter.
Yes indeed, it's pints all round for the flyboys of RAF Boulmer who last week hauled the beast from mud close to Holy Island causeway. The poor creature was trapped for three hours as the rising tide threatened to dispatch it to the great pasture in the sky.
All attempts to free the animal having failed, the RAF was on hand to airlift the ailing equine to safety, in the process demonstrating that while any idiot can hitch a donkey to a parasail, it takes proper class to pull off a flying horse.* ®
Bootnote
* We were going to rephrase that, but then images of a youthful Brigitte Bardot inexplicably came to mind.
Thanks to Stephen Lloyd for the tip-off.