This article is more than 1 year old
Samsung Galaxy S
The Android iPhone clone that has it all?
Review The Galaxy S is Samsung's hero handset for 2010 and one the company clearly has high hopes for. It's the closest thing to an iPhone the Korean firm has yet produced, and packs in Android 2.1 OS, multi-touch screen, powerful 1GHz processor, 5Mp camera, GPS, an updated TouchWiz UI, social networking and Samsung's own App store in addition to Android's Market.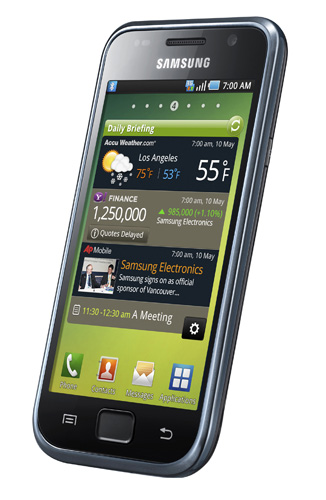 More than an iPhone lookalike: Samsung's Galaxy S
It's a very smart, and indeed, very iPhone-looking handset, though its screen is a little larger at 4in and there are three, rather than one, discreet buttons beneath it. These consist of touch-sensitive back and menu buttons surrounding a home button. On the sides are the power button and volume rocker, with a 3.5mm headphone jack and micro USB power/sync slot covered by a plastic slide on top.
Back and sides are black gloss with a chrome-look trim and on the back is the 5Mp camera lens and a little chin at the bottom, which serves to lift the handset a few millimetres off the surface to protect the lens. It measures a sizeable 64 x 122 x 10mm though the curved sides offset the bulk a little and it's a surprisingly lightweight at 119g – a trade-off with the plastic back, which feels a little cheap.
The screen is another Samsung Super AMOLED similar the one we last saw on the Wave with WVGA (480x800 pixels) resolution and 16million colours. It is beautifully sharp and clear, with excellent contrast, and it's multi-touch too, so you can do the pinch to zoom thing when you're browsing the web or viewing photos or maps. Resolution isn't quite as high as the new iPhone 4's 960 x 640 resolution, but you'd be hard put to tell the difference if all you've got to look at it with is eyes.
The TouchWiz interface looks very similar to that of the recent Samsung Wave with its shiny new Bada OS, which is clearly familiar with the work of Android. A crucial difference, however, is that you can add menu shortcuts to the various home pages. Less crucially, there are seven home pages rather than the Wave's maximum of ten, which is still ample. Android's pull-down notifications menu now includes a Wi-Fi toggle, which is handy, as are the music player controls that you can access easily from the tray, no matter what else you're doing – all useful examples of multitasking integration in action.

The slight bump will help reduce scratches on the plastic back and protect the camera lens
The TouchWiz widgets are very much in evidence and they're getting more sophisticated with each new handset. The trouble here is that they don't really seem to reach their full potential. There's a nice daily briefing widget, for instance, which shows top line weather, finance and general news. Yet it's a shame you're limited to a feed from AP, rather than being able to use your favourite news source. The Buddies Now widget features a rolodex with social networking updates from your friends, but you'll need to add them individually, and scroll through to find individual updates, rather than highlighting the latest.