This article is more than 1 year old
Samsung Galaxy S
The Android iPhone clone that has it all?
Incidentally, video playback looks terrific, with the option to stretch videos to fit the screen's dimensions. You can also adjust brightness, colour tone and even outdoor visibility (an on/off setting which just seems to make the screen brighter). There's TV out support plus DLNA, so you can watch your vids on the bigger screen and an extremely broad range of video formats offered, including DivX, XviD, MPEG4, H.263, H.264, WMV, VC-1, AVI, MK and FLV.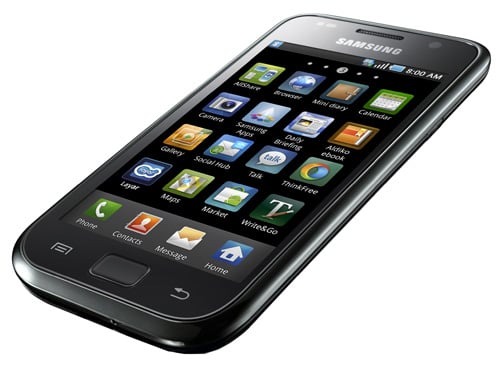 Arguably, the most fully-featured Android handset you can buy
The headphones are quite good quality, with noise-isolating grommets, which deliver a fairly detailed midrange with no shortage of controlled, not boomy, bass. There's a 5.1 surround setting which broadens the sound stage a little as well as eight audio presets and an eight-band graphic equaliser so you can get the sound just how you want it. Like the video options, the music player has plenty of audio codecs on offer, including MP3, AAC, AAC+, eAAC+, OGG, WMA, AMR-NB, AMR-WB, WAV, MID, AC3, IMY, FLAC and XMF.
There's 16GB or 8GB of memory on board – you'll need to get your handset from Vodafone for the former – and if you really need more, you can add up to 32GB with a MicroSD card. You'll need to remove the back to get to it by the way, but not the battery. As we'd feared, despite the presence of a large 1500mAh battery, the Galaxy S is still a thirsty beast, and we barely got a full day of, admittedly, heavy use out of it.
Verdict
The Galaxy S has a lot of great things going for it, not least that marvellous screen, the latest Android OS and wealth of apps, plus the quality and range of the 5Mp camera. But it's let down, if only a little, by a few inconsistencies. The camera's good, but why no flash? A little more thought could have gone into the widgets available with more promised, such as iPlayer access. Also the social networking functions could be more tightly integrated. That said, it's still a terrific handset and well worth considering if you haven't bought into iPhone fandom. ®
More Android Smartphone Reviews

Motorola
Milestone XT720
HTC
Wildfire
Acer
beTouch E400
Sony Ericsson
Xperia X10 Mini

Samsung Galaxy S
Fully-loaded Android handset that's more than just an iPhone wannabe.