Toshiba has been talking up tellies based on the Sony PlayStation 3's Cell chip for years, and today unwrapped three new models due to go on sale in October.
That's the launch day for the Regza Cell line in Japan, with European and US introductions following "in due course", Toshiba said today.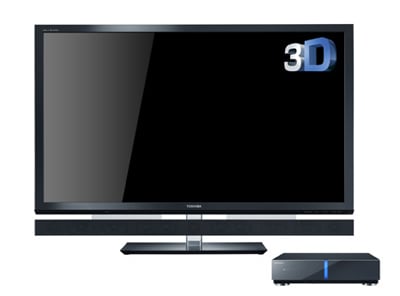 Since Toshiba showed off the Regza Cell design earlier this year, the line has grown. The new additions are two Regza Cell Slim TVs, the 46in and 55in XE2. The regular Regza Cell, the X2, is a 55in panel too.
All three are LED backlit - for a contrast ratio of 9,000,000:1 on the X2 - are 3D-ready and include 2D-to-3D conversion tech. In each case, the tuner and other gubbins are contained in a separate box which also packs in 1-2TB of hard drive storage for DVR duties.
The tellies have an internet access capability - tune them into YouTube and suchlike - and DLNA home networking support.
In Japan, at least, the XE2s go on sale at the start of October, the X2 at the end of that month. Toshiba coyly said the price is "open" - retailers can charge what they like - which is typically code for 'very expensive'. Expect to pay well over three grand here, we'd say. ®