Churchill's dentures go under the hammer
War-winning gnashers
---
A set of dentures belonging to Winston Churchill and described as "a vital weapon" in Britain's struggle against Nazism come under the hammer today, the BBC reports.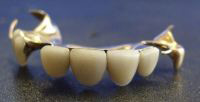 Churchill was keen to preserve the distinctive lisp which added essential flavour to his wartime speeches, and enlisted dental technician Derek Cudlipp to ensure he didn't lose his natural speech impediment.
Cudlipp's son Nigel explained that his dad's work was so critical, the PM personally tore up his enlistment papers. He said: "Churchill said that he would be more important to the war effort if he stayed in London to repair his dentures."
The BBC notes that this was more of a full-time job than it might appear. Cudlipp explained: "Churchill used to flick out his dentures when he was angry and throw them across the room. My father used to say he could tell how the war was going by how far they flew."
Cudlipp is now selling the historic gnashers because "he feels they should be on public display". Another set at the Royal College of Surgeons in London rank among the museum's "most popular exhibits".
If you fancy owning a bit of dental history, Churchill's false teeth feature in today's sale at Keys Auctioneers in Aylsham in Norfolk. Auctioneer Andrew Bullock told the Beeb: "We've had enquiries from all over the world. We've never seen this much interest in any item we've sold. We've valued the dentures at £4,000-5,000, but I wouldn't be surprised if they went for ten times that."
Other items in the sale include "Winston Churchill's personal cigar box which bears the initials 'WSC' to the lid", "Churchill's personal sets of playing cards", and "an usher's armband worn at Churchill's funeral to be sold with the wooden staff, order of service and order of ceremony guest list". ®