Daryl Brach, known as pfaffen online, has built a scale model of the Cray-1 supercomputer to house a PC.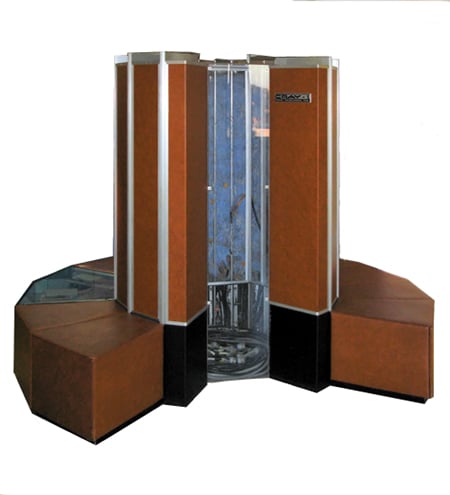 The Cray-1, (pictured above) the world's first supercomputer, was launched in 1976. It was rated at a peak performance of 250MFLOPS and had "200,000 integrated circuits, 3,400 printed circuit boards, 60 miles of wire, and [was] housed in less than 70 square feet of space". The Cray-1 made a celebrity of its designer, Seymour Cray, and more than 80 systems were sold.
Brach decided to model the Cray-1 because of its iconic C-shaped, hexadecagon (16-sided polygon) design with two and a half sides left out. This design featured a projecting naugahyde-clad base housing Freon refrigeration units surrounding a set of twelve wedge-shaped upright fins holding the pipeline processing elements. The project's course is described in a bit-tech article.
Brach says: "The original Cray-1 was 77in tall and 103.5in across. My one-third scale model turned out to be 25.6in tall and 34.5in across." One problem was that the inner surfaces of the upright wedges revealed blue-covered wiring. Brach used a rough Masonite surface with a base coat of silver spray paint. This was then covered with two coats of a light blue colour and topped off with a reflective paint layer to give the illusion of dense blue wiring.
He put two PCs into the base, each with three SATA hard drives and an optical drive. An irony is that the resulting scale model Cray-1, seen below, is probably more powerful than Cray's original near 40-year-old design.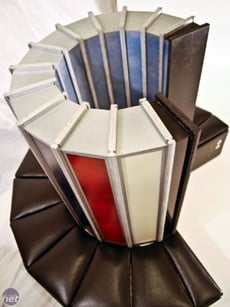 ®